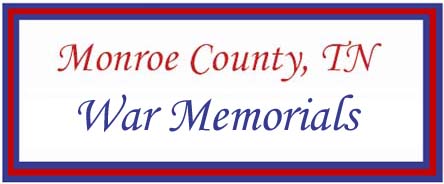 These memorials are located on the
Monroe County Courthouse lawn in Madisonville, Tennessee.

Abbreviations:
KIA = Killed In Action
DOW = Died of Wounds
DOI = Died of Injuries
DNB = Died Non-Battle
FOD = Finding of Death
M = Missing

By the end of 1918, the Spanish flu had killed 57,000 American soldiers -- 4000 more than those killed in combat.
These Monroe County men died of flu: Albert B. Simpson, Frank A. Ray and Thurber McConkey and there could have been more.
---
---
---
<! -----BEGIN CIVIL WAR MEMORIAL SECTION----- !>Civil War Memorial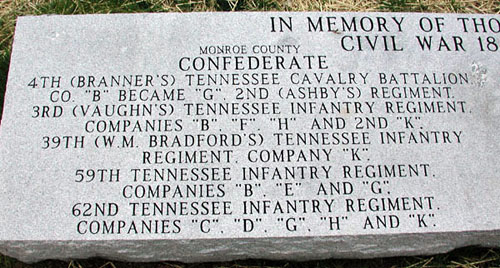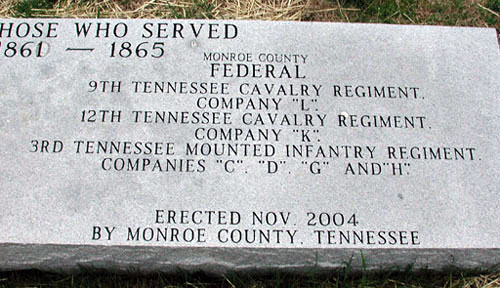 ---
<! -----BEGIN WORLD WAR I MEMORIAL SECTION----- !>World War I Memorial

<![if !vml]><![endif]>IN MEMORIAM
HONORING THE MEN FROM MONROE
COUNTY WHO MADE THE SUPREME
SACRIFICE IN THE WORLD WAR
1917 ---- 1918
---
---
<! -----BEGIN WORLD WAR II MEMORIAL SECTION----- !>World War II Memorial

<![if !vml]><![endif]>

THIS MEMORIAL IS DEDICATED IN MEMORY OF THOSE
FROM MONROE COUNTY WHO GAVE THEIR LIVES IN
WORLD WAR II IN DEFENSE OF OUR COUNTRY THAT
WE MIGHT HAVE FREEDON IN OUR PURSUIT OF
HAPPINESS. THEY GAVE US PEACE, WE MUST KEEP IT.

Alaska Freeman-see John W. Freeman
---
<! -----BEGIN KOREAN & VIETNAM WAR MEMORIAL SECTION----- !>Korean & Vietnam War Memorial

DEDICATED
BY THE CITIZENS
OF
MONROE COUNTY

IN HONOR AND RECOGNITION
OF THOSE WHO SERVED IN THE
KOREAN AND VIETNAM WARS

AND IN MEMORY OF THOSE
WHO GAVE THEIR LIVES FOR
FREEDON OF OUR COUNTRY

THE PRICE OF FREEDON IS HIGH
EVEN IN UNPOPULAR WARS
OUR COUNTRY CALLED
WE PROUDLY ANSWERED

LEST YOU FORGET - WE SHALL HAVE DIED IN VAIN

Korean War
1950-1955

Vietnam War
1959-1975
---
<! -----BEGIN IRAQ & AFGHANISTAN WAR MEMORIAL SECTION----- !>Iraq & Afghanistan War Memorial

DEDICATED
TO THE U.S. MILITARY MEMBERS
FROM
MONROE COUNTY

THAT SERVED IN
THE WARS THAT RESULTED
FROM THE TERRORIST ATTACKS
ON SEP 11, 2001

Iraq War

Afghanistan War
---
---
This page and images created by Cory Mills and MEMORIALS by Joy Locke and Joe Irons