Putnam County is located in one of the state's three "grand divisions," Middle Tennessee, as depicted in the map below.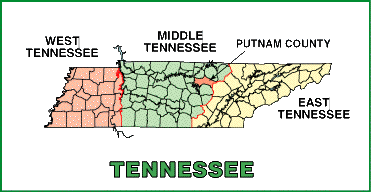 Putnam County was first formed in 1842, but it was short-lived, since it was declared unconstitutional and dissolved. It was permanently established in 1854 and was named for Israel Putnam, a Revolutionary War hero.
NOTE: Due to a massive reworking of the TN State Library and Archives site, almost all of the links to that site on these pages are broken. Because of the massive number of them (over 300 on the four sites we manage), it will be awhile before they get fixed. The best we can do in the interim is refer you to the new URL for the site and wish you luck finding your records:
If you do find the new addresses (URLs) for broken links on these pages, if you will send them to Charles Reeves, Jr., I'll correct them. Thanks.
I have uploaded a PDF of the 1943 Cookeville Central High School annual to my web site. It is a 14MB file. I got the copy off eBay because that was the year I was born in Cookeville. I only discovered after I got it that my uncle, Kelly Ensor, was a senior that year. Sadly, he passed away soon thereafter. I have given the annual to his daughter.

The United States Reference Unit at the Family History Library has launched a Research Guide for Putnam County, Tennessee in the new FamilySearch Wiki format. Anyone who wishes to can register and add material or make changes.

Putnam County Gazetteer - $140 from Sam Barnes at Trademark Printing, 502 W. Spring St., Cookeville, TN 38501, (931) 520-3421


Topography and Migration Patterns of Putnam County

Putnam County Research Helps

Putnam City Cemetery Obituaries


Putnam County Historic Sites of Interest

Those doing Research on Families from the County

Post a New Putnam County Query

Putnam County Cemetery Listing

Putnam County Related Obituaries

View Old Posted Putnam County Queries

Putnam County Scenes from Old Postcards

Putnam County Photos

Calendar of Events

Search Engine
---

Go to the Tennessee Genealogy page
This page was created by Charles Reeves, Jr. with considerable input from Billie R. McNamara, Fred Clark, and others as indicated in the references.
Note: No claims or estimates are made nor intended of the validity of the information contained on the Putnam County Website. Each new piece of information found should not be taken at face value, but should be researched and proved or disproved by weight of evidence. Among the items you may find are copies of copyright-expired texts pertaining to the history of Putnam County, Tennessee. These must be considered in the era that they were written. You are welcome to copy information found at the Putnam County Tennessee Genealogy Website for personal use and share information with other researchers or genealogical organizations, but this information may not under any conditions be sold or used in a commercial project without expressed prior written permission. The entire contents of the Putnam County TNGenWeb pages are copyright 1998, 1999, 2000, 2001, 2002, 2005, 2006, 2007, 2011, 2013, 2016 by Charles A. Reeves, Jr.