After its original formation in 1842 was declared unconstitutional, Putnam County was firmly established 11 February 1854 when Richard Fielding Cooke's bill, with amendments, cleared the Tennessee House. Putnam County was again a reality. It is named in honor of General Israel Putnam, who rose to prominence in the American Revolutionary War and fought at the Battle of Bunker Hill in 1775.
Putnam County was first established on 2 February 1842 when the Twenty-fourth General Assembly enacted a measure creating Putnam County from portions of Jackson, Overton, Fentress, and White Counties. Isaac Buck, Burton Marchbanks, Henry L. McDaniel, Lawson Clark, Carr Terry, Richard F. Cooke, H. D. Marchbanks, Craven Maddox, and Elijah Carr, all of Jackson County, were named by the Act to superintend the surveying of the new county. Surveying was done by Mounce Gore (thanks to Nancy Hargesheimer for the correct spelling of his first name), also of Jackson County, and the Assembly instructed them to locate the county seat, to be called "Monticello," near the center of the county. However contending that the formation of Putnam was illegal because it reduced their areas below constitutional limits, Overton and Jackson counties secured an injunction against its continued operation. Putnam officials failed to reply to the complaint, and in the March, 1845 term of the Chancery Court at Livingston, Chancellor Bromfield L. Ridley declared Putnam unconstitutionally established and therefore dissolved.
The 1854 act reestablishing Putnam was passed after Representative Henderson M. Clements of Jackson County assured his colleagues that a new survey showed that there was sufficient area to form the county. The act specified the the "county town" be named "Cookeville" in honor of Richard F. Cooke, who served in the Tennessee Senate from 1851-1854, representing at various times Jackson, Fentress, Macon, Overton and White Counties. The act authorized Joshua R. Stone and Green Baker from White County, William Davis and Isaiah Warton from Overton County, John Brown and Austin Morgan from Jackson County, William B. Stokes and Bird S. Rhea from DeKalb County, and Benjamin A. Vaden and Nathan Ward from Smith County to study the Conner survey and select a spot, not more than two and one-half miles from the center of the county, for the courthouse. The first County Court chose a hilly tract of land then owned by Charles Crook for the site.
Prior to selection of the Court House site, Putnam County's first election was held 3 June 1854, at which time twenty-eight justices of the peace were elected, two from each of fourteen civil districts. Robert D. Allison was elected chairman of the County Court; W. Gentry as Trustee (treasurer); William Baker, Register (recorder of deeds); Joseph Pearson, Tax Collector; Pleasant Bohannon, Sheriff; Russel Moore, County Court Clerk; and Curtis Mills, Circuit Court Clerk.
A copy of a map is available showing portions of the counties which were taken in the formation of Putnam County. Two versions are available on-line at the links below. The GIF image is viewable on-line, but is of limited resolution. The PDF version is much higher resolution but must be downloaded, and a copy of Adobe Acrobat Reader is required to view it. For more information about Acrobat files, see the page at this link. Also, as noted below, the PDF version is 360 KB in size, so it may take a few minutes to download.
View the low resolution image on-line.
A higher resolution image which can be downloaded. (360 KB)
A short history of the Baxter Methodist Church is also available.
Note: Portions of the following two publications were used as sources for this material (used with permission):
Putnam County, Tennessee, 1850-1970, by Mary Jean DeLozier (Leon and Mary Jean DeLozier; Box 386; Cookeville, TN 38501; 1979; ISBN 0-9604900).
Clay, Jackson, and Putnam Counties,Tennessee, by Charles A. Reeves, Jr. (Charles Reeves, Jr.; 10812 Dineen Drive; Knoxville, TN 37922-1809; 1995).
Jaquita Jaquess Blevins sent this photo of the Jaquess Family Store that she thought was in Cookeville, TN, taken around 1912. However, William Earl Jaquess reports that it was actually in Jackson County, TN about two miles from the Putnam-Jackson County line on the Dodson Branch Highway. He adds that the store was owned and operated by Malcolm Macon Jaquess.
Roy Bean of Plano,TX has since reported that the photo came from his web site (http://www.familytreemaker.com/users/b/e/a/Ron-B-Bean/), which gives a complete listing of the people in the photo.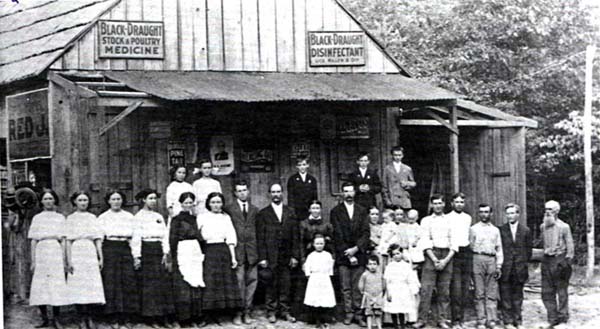 Return to the Putnam County page.
This information may not under any conditions be sold or used in a commercial project without expressed prior written permission. The entire contents of the Putnam County TNGenWeb pages are copyright 1998, 1999, 2000, 2001, 2012 by Charles A. Reeves, Jr.