Tolerably Accurate
An Intruders List, Cherokee Nation
~ 1797 ~
Transcribed by Helen Hewitt
© TNGenNet Inc, 1998, All Rights Reserved.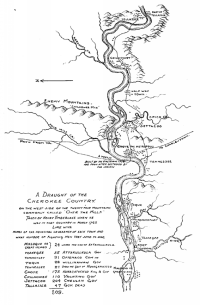 Addressee :
His Excellency Governor Sevier
Contents :

Persons Residing in the Cherokee Country,
not natives of the land 1797.
11 March 1797
Knoxville
Sir,
My instructions from the Honorable the Secretary of War require that I report to you the names of all persons residing in the Cherokee country not natives of the land. For this purpose I have collected the following schedule of their names and employment which I am induced to believe is tolerably accurate.
Names
Nation
Employment
John McDonald
Scotch
Trader & Spanish Agent
Daniel Ross
Do
Do
John Rogers
Do
Thomas Harrison
Blacksmith
William Woodward
Do
James McBride
Do
Hireling
Richard Cross
Taylor
William Thompson
Irish
Trader
Thomas Tanbridge
Do
Who bears the worst of character
Richard Ratliff
Trader
Drury Spencer
Hireling & cowboy
Alexander Campbell
Trader
________Stofield
Dutch
Unknown
Hickman Henslee
Hireling and idler
John Whizenhunt
Trader
John Melton
Do
William Smith
Do
William Ratley
Unknown
John LeGrand
Cooper
John Levett
Trader
Jack Civile
Negro
Do
Anthony Civile
Do
Servant & Jack
Daniel McKoy
Unknown
William Allen
Old, Condemned as unfit for service
William Colson
Unknown
Stepanus Sheppard
Unknown
William Chambers
Do
________Carter
Do
William McDonald
Do
Caldwell Eastridge
Do
Miles Eastridge
Late employed by Chisholm & Rogers
James Welch
Eve Vann
Unknown
Samuel Riely
Trader
Clement Vann
Unknown
Robert Brown
Scotch
Trader licenced 1st Feby for 2 years
john Francois
Negro french
Unknown
Stephen at Levett's
Span
Unknown
Jones
Lucas at Rogers
Span
Do
Peter
Benjamin Harris
Taylor and trader
Tonio Vance at Harris
Span
Unknown
John Wright
Trader
Thomas Gegg Esquire
English
A Magistrate under the territorial gov't
Tonio at Pine Log
Span
Unknown, a troublesome bad character
Jacob Hogner
Dutch
Stolen horse buyer do do do
John Meyers
Do
Do do
Christian Russell
Do
Trader
Bob Kilgore
The worst of bad characters
Daniel Love
Dutch
do do do
Ellis Harlin
Trader, licenced 18th January for 2 years
Marmaduke Daniels
Licensed hireling to Harlan
Caleb Starr
do do do
Anthony Foreman
Trader & idler
Murwood Timberlack
Do
John McPherson
None
Joseph Browner
Licensed hireling to Brown
George Philips
None and ranks high among the most worthless
John Welch
Dutch
Trader
Benjamin Hawkins
Dutch
Trader
Mitchel Sandwich
Do
Stephen Graves
Unknown
John Christy
Dutch
Do
John Gunter
Trader
Peter, at Gunters
Span
none
________ Jones
None
John Cameron
Scotch
Do
Thomas Cordery
Do
_______ Underwood
None, Worn out of Service
Several Spaniards whose names I could not learn
The blanks in the second column are either Americans or unknown. Those whose characters are noted in the third column I have represented according to the best information I have been able to receive.

I am very respectfully,
Sir,
your most obedient

Silas Dinsmoor

From Microfilm at Tennessee State Library & Archives


Intruders Page
Knox County TNGenWeb Genealogy Page
Main Letters Page
Tennessee Letters Page