LITIGATION OVER PETER PEARSON'S FARM
Jonathan Kennon Thompson Smith
Mr. Jonathan Kennon Thompson Smith of Jackson has published seven genealogical miscellanies for Henderson County. He wishes to share this information as widely as possible and has granted permission for these web pages to be created. We thank Mr. Smith for his generosity. Copyright, Jonathan K. T. Smith, 2001
(Page 57)
I.
PETER PEARSON was for fifty years a prominent resident of Henderson County. He was born October 11, 1814 in Anson County, North Carolina, one of the sons of John and Penelope (Taylor) Pearson, whom he preceded to Henderson County about a year, soon after which he married MARY ANN PRITCHARD (January 4, 1820-January 26, 1866), December 22, 1835. They settled on a farm off the public road about a mile west of Parker's Crossroads in the extreme north section of the county. A successful farmer he prospered, acquiring land and slaves. He entered local politics as a Justice of the Peace, a member of the county court for about nine years, 1856-1865.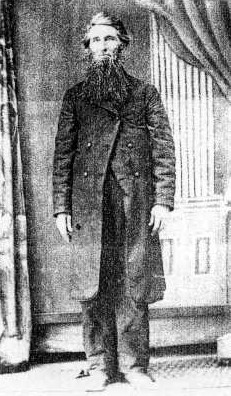 PETER PEARSON
Courtesy of Special Collections
McWherter Library
University of Memphis
By the time of the Civil War Pearson had accumulated a 393 acre farm valued at $2805. His primary crop production was in cotton and Indian corn, the former being his main money crop.
Peter Pearson favored the unionist sentiment during the war and was elected representative to serve in the Tennessee House of Representatives for a term lasting from the spring of 1865 until July 1866 but as he was apparently at odds with the Radical Republicans who then controlled state politics, his attendance was spotty. In the second session of this Assembly, November 1866 through March 1867 he was a regular attendant. He had been elected on the Unionist ticket.
Peter Pearson was re-elected to three additional terms in the General Assembly, 1869-1875, as a Conservative, then as a Democrat.
When his brother, William Pearson, moved to neighboring Madison County in 1865, he sold Peter Pearson his large farm, one of the most productive in the county, the residence of which is still standing, somewhat modernized, at 3085 Strayleaf Road, south-west of Parker's Crossroads, formerly known as the Lexington-McLemoresville Road. His granddaughter, Dora (Pearson) Davis (1874-1964) of Lexington recalled him to the present writer in November 1955, as a tall, bearded man who rode over his farm on a favorite mare named Mollie . She spoke of his religious affiliation, Universalism, believing as he did in universal salvation. He was a consistent member of the Independent Order of Odd Fellow (the Wildersville chapter), a popular fraternal order in that era.
A widower, Pearson married Harriet McMurray (1832-1902) of Maury County, Tennessee; they had no children. He died May 16, 1887 and was buried at his request at a corner of his garden just south of his residence. A large shaft tombstone was erected over his grave which 'stone is in excellent preservation. His widow was buried beside him in an unmarked grave.
(Page 58)
SOURCES: W. A. Goodspeed, HISTORY OF TENNESSEE (Henderson County), 1887, page 855; BIOGRAPHICAL DIRECTORY OF THE TENNESSEE GENERAL ASSEMBLY, volume 2 (1861-1901), 1979, edited by Robert M. McBride, pages 712-713; Henderson County Court Minute Book, 1860-1866; Federal Direct Land Tax, 1865; interview, Jonathan Smith with Dora (Pearson) Davis, Lexington, November 1955. Mrs. Davis remembered her grandfather, Peter Pearson, well; he died the year she started as a teenager to "teach" in a neighborhood school; she recalled his brother, Nathan; hearing the elders talk about his brothers William and Shadrach and their only sister, Jemima Kirby; the fact that her grandfather bought his brother's farm, moved into the same house and she lived near by and was in constant conversation and interaction with members of his immediate family. Her own father, Jim Pearson, served in the Federal army during the war.
II.
In July 1871 Peter Pearson gave a 241 acre tract of land, near his own base farm, to his son, James (Jim) N. Pearson. (Henderson County Deed Book I, pages 328- 329) In October 1873 he gave the old 255 acre John S. Pearson (his nephew) tract to his son, William D. Pearson. (IBID. Book 2, page 429) In April 1875 he gave his daughter, Mattie Milam, 100 acres. (IBID. Book 3, pages 32-33)
Late in 1883 Peter Pearson made arrangement with two of his sons "to leave" his farm to them with the understanding that they would provide him and his wife "a comfortable living" during their remaining years; that at the death of both his wife and himself the land would be theirs equally. He drew up a legal document to confirm this mutual agreement:
December the 22nd A. D. 1883

State of Tennessee
Henderson County

Know all men by these presents that I PETER PEARSON do this day and date give and bequeath unto my two sons JOHN I. and PETER S. PEARSON all my real and personal property except three head of horses and as many milch cows as my wife Harrit Pearson may wish for at my death, then the same stock to be disposed off at her /demise/, my mansion house and all the furniture and building belonging thereunto and in consideration that the said John I. and Peter S. Pearson furnish us a comfortable living during each of our natural life times, the property that I herein give nor the proceeds arising therefrom shall not be liable to be liable for any debt that the said John I. or Peter Pearson may have contracted or may contract hereafter unless it be for the improvement of the premises that I give and bequeath unto the property above named property shall be equally divided between the said John I. and Peter S. Pearson and their legal heirs in wedlock and a white woman at my death, the death of my wife Harrit Pearson acording to their plan or by three disinterested persons to be chosen for that purpose the said real estate lying in the 8 Civil District on the waters of Beaver Creek in the state and county aforesaid and district by the following meets and bounds:

Beginning at a stake with pointers in the north boundary line of a tract of land formerly owned by James 5. Flake runs west 2324 poles to a bunch of sassafras bushes thence south 243 poles to a stake in a ditch with sassafras pointers thence west 15 degrees south with the ditch 56 poles to a stake in the ditch thence west 25 degrees south with the ditch 246 poles to the mouth of a small ditch thence south 160 poles to a stake with post oak and red oak pointers thence west 55 poles to a small hickory with 3 red oak pointers thence south 43 poles to a stake with post oak pointer it point to a stake with 2 black oak pointers thence north 40 poles to a stake with post oak and hickory pointers thence east 96 poles to a stake with hickory and black Jack and post oak pointers thence east 90 poles to a post oak with 3 post oak and hickory pointers thence north 155 poles to a stake north 2 red oak and black Jack pointers thence east 62 poles to a stake thence north 28 poles to a stake thence east 21 poles to a small hickory thence north 172 poles to the beginning. I Peter Pearson do covenant and agree to and with the said John I. and Peter S. Pearson /at/ my death and the death of -my wife Harrit Pearson to vest them with a good right and title to the above described tract of land and the above set forth property and I will warrant and defend the right and title to the sane against the right or title claimed by any person through me Peter Pearson whereunto I fix my name in the presents of

Jos. H. Hart
H. A. Dodd Test.

PETER PEARSON
(Page 59)
This document was presented to J. A. Teague, the County Court Clerk, to be acknowledged legally November 5, 1886. T. A. Smith, County Register of Deeds, affirmed that this deed was filed for registration November 5, 1886. It was re-registered after the courthouse burned (in July 1895)on July 25, 1896. (Henderson County Deed Book 15, pages 98-99)
Peter Pearson died in May 1887 after which the other surviving members of his immediate family sought assistance from the local lawyer, John E. McCall, in presenting a bill of complaint before the Chancery Court, contesting the disposition of the Pearson land as outlined in the 1883 document, doing so in August 1887. Dr. Gilford L. Laws and Jemima Laws, W. D. Pearson, Mary Ann and Ora Adams through their father, W. H. Adams, Gilford Lytle Douglass* through his father, Ben F. Douglass, filed against John I. Pearson, Peter S. Pearson, Martha Milam, the children of J. N. Pearson, deceased and Peter Pearson's widow, Harriet. Thus were the widow, surviving children and grandchildren aligned for litigation.
*As an adult he changed his name to Levi Lytle Douglass to honor his foster father, Levi Walker.
The complainants charged that they believed the deed in question had been "procured by J. I. & P. S. Pearson by undue & improper influence exercised over the deceased Peter Pearson & that during this last year he was much afflicted & by reason thereof his mind had lost its vigor & was weak & not capable of withstanding oft repeated & pressing overtures by these two supposed favored sons." That the land was properly owned by all Peter Pearson's heirs except for a homestead and dower for his widow. That the decedent had "died the legal owner and possessor of a considerable amount of personal property, consisting of horses, mules, wagons, cattle, sheep, hogs, corn, fodder, hay, cash, household & kitchen furniture, notes, accounts, &c." in Civil District 5 of Henderson County. The complainants appealed to the Court to have the widow's due portion surveyed and set aside for her and the remainder to be sold, the proceeds of which would be distributed among the several heirs. (Original lawyer's bill of complaint owned by W. L. Barry, Lexington).
It is evident that Dr. Laws was the chief opponent of the 1883 deed and in October term of court 1887 the defendants challenged his lawyer to present evidence that he had support from W. D. Pearson, the Adamses and the Douglasses. The Court ruled that he did not but allowed their names to be added to the list of complainants. (Henderson County Chancery Court Orders and Decrees 9, pages 138-139)
On May 1, 1888 the case was heard in Chancery where the ruling was against the defendants and provided them forty days to answer this ruling; allowing S. W. Hawkins lawyer, to represent the several minors in the case. (IBID., page 174)
Sometime afterwards the litigating parties agreed to compromise and settle their litigation outside the court — ostensibly the two brothers offering a financial settlement for the other heirs and the "complainants desire to dismiss their bill" which the Court allowed, October 3, 1888. (IBID., page 289)
John I. and Peter S. Pearson and their stepmother continued to control this large farm until the latter's death in 1902. John I. Pearson, a bachelor, had continued to live on the place as did a brother-in-law, Ben Douglass, for years. On August 19, 1902 the two brothers divided what turned out to be, after a proper survey, to be the 931 5/8 acre farm between themselves; to Peter S. Pearson the 467 acres beginning at the original corner of the Pearson tract; to John I. Pearson the 464 acre which included the old residence. (Henderson County Deed Book 20, pages 305-307; registered August 20, 1902)
John I. Pearson sold several tracts off his acreage so that after his death and his brother, Peter S. Pearson acquired the remaining 214 acres, including the old dwelling, the latter sold it to John H. and Josie Olive, January 12, 1923. (Henderson County Deed Book 41, page 309; registered the same day) Some of the Olive family still own and live upon this farm. (The brothers' sister, Mattie, lived just to the south along the same road.)
(Page 60)
III.
The children of Peter Pearson and his first wife, Mary Ann Pritchard, whom he married December 22, 1835:
1. ELIZA HANNAH PEARSON, born November 2, 1839; died May 23, 1880 from dropsy; married Ben Franklin Douglass; three children, of whom Levi Lytle Douglass (May 21, 1880-February 17, 1948) survived, married and had children.
2. WILLIAM DUDLEY PEARSON, born in 1841; moved to Kansas; never married.
3. MARY PENELOPE PEARSON, born August 29, 1843; died April 6, 1867; married Dr. Gilford L. Laws (1836-1907), November 12, 1863; one surviving child, William Dudley Laws (1866- 1915) who married and had children; he was nicknamed Willie Laws.
4. JAMES NATHAN PEARSON, born March 25, 1845; died June 17, 1887; married Amanda Jane Meals in January 1811 and their children are listed in the bill before the court regarding their paternal grandfather's real estate: Mary Elizabeth, Dora Lillian, John Alonzo, Lebe Elmer, Arthur Eugene and Essie Emma.
5. His twin, JOHN IVY PEARSON, born March 25, 1845; lived only briefly.
6.WELLINGTON PEARSON*, born September 2, 1847; died July 14, 1848.
7. JOHN IVY PEARSON, born June 5, 1849; died October 21, 1922; nicknamed "X"; never married; lived at the close of his life with his brother, P. S. Pearson and family in Lexington.
8. SUSANNA E. PEARSON*, born June 15, 1851; died August 28, 1852.
9. JEMIMA. MELVINA PEARSON, born September 23, 1852; died June 20, 1924 married Dr. G. L. Laws in 1869; two sons, Joseph Hiram Laws (1875-1941) surviving. Soon after her husband's demise she moved to Broken Arrow, Oklahoma.
10. FRANCES LILLIAN PEARSON, born in 1855; predeceased her father; married Dr. Whig H. Adams; two daughters, Mary Ann and Ora Adams. Texas.
11. PETER SHADRACH PEARSON, born February 21, 1857; died December 29, 1923; married Ella Dennison, January 7, 1896; five children, the youngest, Shadie Peerson (died 1989) informed the present writer in 1956 that the family Bible and pictures of Peter Pearson's family were destroyed when the family dwelling burned in Lexington in the third decade of the 20th century.
12. MARTHA ELIZABETH (Mattie) PEARSON, born March 5, 1859; died March h, 1939; first married William Milam, 1878 and had six children; then to Thomas L. Kee, 1888, one child.
*The names and vital stats of Wellington and Susanna Pearson are on one tombstone; they are listed on their mother, Mary Ann Pearson's tombstone as her children. The given age for Susanna is 8 months, 12 days and since she died August 28, 1852 this sets her birthdate somewhat at odds with that of Jemima Pearson whose birthdate is well established as September 23, 1852. Wellington's death date is given as July 14, 1848 aged 1 year, 2 months and 13 days. The present writer believes the ages of these two children were simply jumbled and he reflects that opinion in the list of their parents' children, above.