DR. LOUIS S. DOUGLASS OF HENDERSON COUNTY
Jonathan Kennon Thompson Smith
Mr. Jonathan Kennon Thompson Smith of Jackson has published seven genealogical miscellanies for Henderson County. He wishes to share this information as widely as possible and has granted permission for these web pages to be created. We thank Mr. Smith for his generosity. Copyright, Jonathan K. T. Smith, 2001
(Page 31)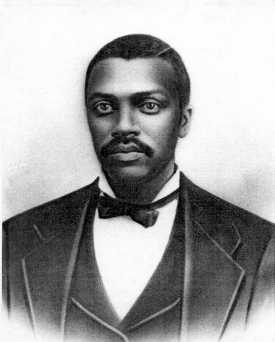 A notable black citizen of Henderson County, Dr. Louis S. Douglass, was born in this county, October 1853, a son of Cato and Melvina Douglass and maternal grandson of Becky Douglass [1], all of whom were bond-folk in antebellum times, servants of Bryant Douglass, a prosperous white farmer whose land lay along what is now Union Cross Road, principally on the west side of this road and north of Interstate 40 where it crosses this local road. After emancipation the Douglasses acquired, lived upon and farmed about 160 acres adjoining their former master's farm, which property "Dr. Lou, "as he was respectfully known, eventually owned and passed to his heirs.
About 1874, Dr. Lou married a young woman whose initials (L. J.) are only known, presently, to the writer; they had four children before she died. He then married Laura Pyles [2], a daughter of Arch and Julie Pyles, long-time residents of Henderson County. After her death, about 1906, he married Mrs. Lee Wallick in Madison County, Tennessee, July 7, 1909 but being incompatible they were soon divorced. His last wife was Mrs. Catherine (Garrett) Knight, whom he married in Hollow Rock, Tennessee, October 6, 1917.
In December 1883, Dr. Lou bought 200 acres of the old white Douglass farm, including the homestead of Abigail, widow of Bryant Douglass.[3] On this tract stood Dr. Lou's residence, consisting of two large log rooms connected with a passageway called a dogtrot and an adjoining kitchen; various outhouses stood close by this dwelling. He eventually owned 604 acres all but 17 of which were contiguous the latter also being nearby, on which his cotton gin and sawmill were located.[4]
(Page 32)
Dr. Lou possessed a bright mind and firm ambition; he felt with religious fervor that he was meant to be a medical doctor but as he had been raised in bondage he had almost no formal education and his growing family needed most of what he raised on and sold from his farm. Even so, he persisted in his resolution to become a doctor.
Off and on for several years Dr. Lou attended Tennessee Central College, a black school in Nashville where he gained his basic education; despite the hardships he faced, he finished his course there and in January 1885 enrolled in Meharry Medical College near the other school. Although he did not graduate from Meharry he completed enough medical training to be certified as a physician by the State of Tennessee, initially on July 12, 1889 and periodically thereafter.[5]
Although his medical practice was among black folk, occasionally he administered to ill whites; he went where he was needed. He was skilled in preparing medications from herbs, some of which "potions" he often dispensed in pill form. For years he rode horseback or in his buggy to make his rounds. A man of sturdy, stocky build, of medium height, who wore a long overcoat much of the time, he was a familiar figure in the area where he lived.
Dr. Lou attended Mt. Tabor Methodist Church, a log sanctuary located just northwest of Bargerton (thin village being his official address).[6] He was also a member of a community band.[7]
Having contracted typhoid fever, Dr. Lou lingered ill several days before he died December 2, 1922; his body was buried in an unmarked grave on the piney-top mound where his old master and several of his kindred and inferentially some of his own kindred were buried.[8] To reach this burial ground, drive about five miles west/southwest of Parker's Crossroads via Rock Springs and Union Cross roads. Approach is off Union Cross Road west onto Lewis Lane to a fieldgate about .5 mile, through a field, to the south, about .2 mile.
The children of Dr. Lou and his first wife, L. J.:
1. WILLIAM HENDERSON DOUGLASS (January 1875-1954), husband of Pearlie Harmon and father of William H. Douglass, Jr. who married and had children. Buried near his father in the old Douglass family graveyard.
2. IRVIN DOUGLASS, born in 1876deaf-mute; nicknamed Jigger; died unmarried in middle-age. Buried near his father in the old Douglass graveyard.
3. LOUIS DOUGLASS, born in April 1878; moved to St. Louis, Mo. as a young man.
4. G. E. DOUGLASS, an infant daughter, born in the spring of 1880, who died in childhood.
The children of Dr. Lou and his second wife, Laura:
1. SYLVESTER DOUGLASS (December 1882-March 30, 1926) who married Addie Price, December 28, 1902 and had children Stella, Mattie and Cecilia.
2. BELL ORA DOUGLASS, born in June 1885; married Temp Henry, May 19, 1912 and had a daughter, Elizabeth who married and had children.
3. MAMIE DOUGLASS (September 15, 1887-September 20, 1968) who married (1) Albert Williams, August 9, 1906 and had three children, one, Ellis, surviving childhood; (2) Addie Townsend and had a daughter, Ella May, born in October 1916 who married Thomas Rufus McCullough (born June 1914), December 1935 and had sons Tommy and Malcolm, prosperous farmerfolk in northern Henderson County; (3) Marvin Mebane, May 6, 1918 and had children Nathaniel (married; three children) and Tessie B. (married; five children); (4) Isaiah Hughes. Buried in Seats Chapel Cemetery.
4. WILLIE DOUGLASS, born in February 1891; married Walter Cathey, September 24, 1911 and had children Matthew, Maxell, Irene and Norma Lee.
5. POMP DOUGLASS (November 23, 1893-October 8, 1968), who married Mary Olive (1900-1974), January 30, 1916. They had children: Jurlean Douglass, born February 12, 1918, married J. P. McGill, no children. Edward Douglass (June 9, 1919-November 29, 1990), who married Virginia Jones, 1946 and had a daughter, Cassandra. Elexzine Douglass (January 6,
(Page 33)
1921-July 1, 1952), wife of L. J. Hart and mother of Jesse Edward, L. Ray and John Thomas Hart. Mildred Douglass, born January 10, 1923, wife of L. B. Anderson and mother of four sons. Learnier Douglass, born October 26, 1928, married Virginia Carter and had children. Virginia Douglass, born November 9, 1930, wife of Varnel Nesby and mother of six children. Leara Douglass, born September 7, 1932, wife of Junior Parker and mother of two daughters and one son.
6. NORAH DOUGLASS, born in July 1897; died in childhood.
7. REBECCA SEATS (July 14, 1901-June 6, 1957), married Ernest Seats (January 23, 1898- March 3, 1975), April 28, 1918. Children: Carl Seats (April 17, 1919-August 19, 1946), unmarried. Vertie May Seats, born November 14, 1921, married Ivy Williams and had a son, Jerry. Lew Wilbert Seats, born February 19, 1923, married Elizabeth White, August 22, 1942 and had children Doris, Juanita, Ora Lee, Omega (died young) and Robert Lewis. Floyd Seats, born May 29, 1924, married Bertha Flakes, May 7, 1949 and had children Eugene, Barbara and twins Night and Dwayne. Calvin Leon Seats, born December 1, 1928, married Martha Lee Williams, August 14, 1949 and had children Gary, Tony, Mary and Gloria. Gracie Seats, born February 7, 1926, married Andy Lee Buckley and had children Glenn, Margaret, Ilene, Evelyn, Marcelle, James and Wayne. Irene Seats, born March 23, 1931, married Ned Jobnson, no children. Infant son, stillborn June 21, 1936.
8. AMALEE (Alma) DOUGLASS (December 22, 1902-May1983) who married E. G. Williams, July 28, 1918 and had children Helen and Waddell (died August 4, 2001), both of whom married and had children. Benton Harbor, Michigan.
REFERENCES
1. On his Meharry admission form, Dr. Lou wrote that his father's name was CATO DOUGLASS. (Meharry Medical College Matriculation Book One) In the U.S. Census, June 15, 1900, Civil District 8, Henderson County, page 89-A, his birth month was given as OCTOBER. In the U.S. Census, 1870, Civil District 8, Henderson County, page 77, Cato Douglass' family: Cato Douglass, 40, N.C.; Melvina Douglass, 35, Tenn.; Lou William Douglass, 16, Tenn.; Thadius Douglass, 12, Tenn.; Will Douglass, 9, Tenn.; Eliza J., Liza, Douglass, 7, Tenn.; Thomas J. Douglass, 3, Tenn. Becky Douglass, 52, Tenn.; Fannie Douglass, 13, Tenn.; Rebecca Douglass, 12, Tenn. As Dr. Lou's birthday had not occurred as of August 1870 (when the census was taken), his age has him born in 1853. (As a young adult he changed his name to Louis S. Douglass.)
In Bryant Douglass' list of bond-folk in the summer of 1860 (Henderson County Slave Schedule, 1860 U.S. Census, page 3) were eleven persons, one of whom was a female aged 40 years (Becky, born about 1818); a male given as age 27 (Cato, although he was apparently somewhat older); a female given as age 21 (Melvina, although she was evidently somewhat older); a male given as age 7 (Dr. Lou); a male given as age 3 (perhaps Thadius, born about 1857). In the U.S. Census of June 15, 1880, Civil District 8, Henderson County, page 288, Cato Douglass' age was given as 52; Melvina's as 41; L. J. (Liza Jane) as 17; Tommy as 14; Will as 10, Jo A., daughter, as 7; N. A., daughter, as 4; M. S. L., daughter, as 1 and Nely A., daughter as five months old.
In 1880, Dr. Lou's age was given as 26 years (census taken in June before his birthday in October, hence born in 1853). In subsequent years, his age was variously given, including that given on the Meharry admissions form (age 29) but as the earlier records indicate 1853 as his birth year, the present writer adopts the same for this sketch.
In the U.S. Census, June 15, 1900, Civil District 8, Henderson County, page 89-B, Cato Douglass' birthdate was given as August 1831, native of North Carolina; he was a widower, having been married 45 years; his daughter, Sousa, was born in August 1878; his mother-in-law, Becky Douglass' birthdate was given as August 1829 /1818/19?/, North Carolina. Becky and Cato Douglass died within the next decade.
(Page 34)
Several individuals have stated their belief that Dr. Lou had white ancestry but the present writer, having examined each such claim brought to his attention, has found the same worthless, none of which bear a remote possibility of being true. These claims have been made by whites, not the descendants of Dr. Lou; an understandable vanity, wanting such an individual to be numbered among their racial group but again, wholly without foundation in fact. Dr. Lou had a younger kinsman, Sebe Douglass, born in December 1872, who was light-complexioned. Dr. Lou's granddaughter, Ella May Townsend McCullough, expressing wonderment about this to her mother, Mamie Hughes, was told by the same that his mother was reputed to have been a mulatto. It may be that this being generally known, others confused Dr. Lou's ancestry with Sebe's.
2. Laura Pyles Douglass' surname was given in her daughter, Alma Douglass Williams' funeral obituary; a copy owned by her niece, Jurlean Douglass McGill. In her father, Arch Pyles' household in 1870 (Census, Civil District 8, Henderson County), Laura was given as age 13; her father as age 46. In 1880 ditto (Civil District 17, Henderson County, Enumeration District 67, page 11): Arch Pyles, 58, N.C.; Julie Pyles, 45, Tenn.; Laura Pyles, 21, Tenn.; Prease Pyles, 14, Tenn.; Mary Pyles, 11, Tenn.; Haywood Pyles, 6, Tenn.; Bettie Pyles, 8, Tenn.; Columbus Pyles, four months, Tenn.
3. Henderson County Deed Book 7, pages 591-592. December 27, 1883.
4. Dr. Lou Douglass' real estate, in five tracts, was divided among his heirs; his widow, Catherine, received a homestead of 49.1 acres and a dower of 55.5 acres. Union Cross Road, along which the farm lay, was called the Wildersville-Lexington Road and an intersecting east-west travelway was called the Bargerton Road (somewhat north of the highway of this name today). See, Henderson County Court Minute Book W, pages 92-106.
5. Information from his entry as LEWIS S. DOUGLASS in the Meharry Medical College Matriculation Book One (now in the archives of this college). Communicated by Quinton Jones, archivist, to Jonathan Smith, August 13, 2001. Also, Tennessee State Library and Archives: Physicians License Book, 1889-1903, #139, page 2.
6. Dr. Lou's religious affiliation is known from his Meharry admissions record and by his descendancy.
7. Interview, Jonathan Smith with Jurlean Douglass McGill (Rock Springs Road, Henderson County), August 13, 2001.
8. Tennessee Death Certificate 192. Another doctor, George Brandon of Lexington, had administered to Dr. Lou in his final illness. His father's name is given as Cato Douglass on this certificate; the informant being Sylvester Douglass, a son.
Note:
The birthdates of Dr. Lou's children are given as they were listed or indicated in the 1900 and 1910 U.S. censuses. It is thought that Dr. Lou's family Bible which would have contained such information was carried away by his fourth wife when she returned to middle Tennessee to live.
(Page 35)
DOUGLASS LANDS
I.
On November 11, 1872, Cato Douglass bought from Enoch Brewer two tracts, 119 and 39.5 acres, along Spring Creek, a tributary of the Middle Fork of the Forked Deer River, for $1000. (Henderson County Deed Book 1, page 442; registered November 21, 1872) This land lay just to the west of Dr. L. S. Douglass' farm. On April 6, 1914, Dr. Douglass bought this acreage, rounded off to 160 acres, from Cato Douglass heirs, his siblings, Thad Douglass, T. H. Douglass, Liza Williams and Susie Chambliss, for $250. (IBID. Book 38, pages 68-69; registered November 6, 1919)
II.
Soon after Dr. L. S. Douglass' death, his widow, Catherine, requested that A. F. Stewart be appointed administrator of his estate and the county court complied on the same day as requested, December 5, 1922. (Henderson County Administrator Bonds B, page 223)
The court also appointed a three-man committee to set apart from Dr. Douglass' estate a year's provisions for his widow, February 10, 1923. A few days later these commissioners alloted Catherine Douglass specific amounts of money for these provisions, including pork, lard, coffee, meal, coal oil, amounting to $224.30 which the court ordered A. F. Stewart to provide for her. (Henderson County Court Minute Book W, pages 32-33)
On February 17, 1923 the court recognized that Dr. Douglass left five tracts of land: tract one, 300 acres; tract two, 210 acres; tract three, 72 acres; tract four, 17 acres; tract five, 5 acres. From this landed estate commissioners were appointed to set aside a homestead and dower for the widow. Most of the remainder was ordered equitably divided among Dr. Douglass' other heirs, Henderson Douglass, Louis Douglass (whose current whereabouts were unknown and he was deleted from the list of heirs), Sylvester Douglass, Ora Henry, Mamie Mebane, Willie Cathey, Pomp Douglass, Rebecca Seats, Amalee Williams and Irvin Douglass (who being deaf-mute and of "unsound mind"). (IBID., pages 81-83)
On May 7, 1923 these three commissioners, including J. W. Ballard, surveyor, went upon said lands and set aside "these lots except for Silvester and Ora Henry who chose to receive money shares instead of land. They reported that Dr. Douglass "had been married four times, that his first and second wives died many years ago, being the mothers of the above-named children; that he was divorced from his third wife, had no children by her and that he left as his widow, the fourth wife, Catherine Douglass who is entitled to homestead and dower in said tract of land." On the previous March 26, the commissioners set apart the homestead, 55.5 acres, including the family residence and a dower to the west of it of 49.1 acres, to Catherine Douglass, all valued at $1000. (IBID., pages 104-105)
In May, the commissioners set apart 28 acres each to seven of the heirs, making adjustments among them the values of their lots, providing them all with equal financial value. Henderson Douglass was by agreement allowed the gin lot, 17 acres, located apart from the rest of the farm and also 11.5 acres of the regular farm, constituting share one. Share two, 28 acres went to Irvin Douglass. Share three, 28 acres went to Mamie Meban. Share four, 28 acres went to Amalee Williams. Share five, 28 acres went to Rebecca Seats. Share six, 28 acres went to Willie Cathey. Share seven, 28 acres went to Pomp Douglass. 260 acres, including the Cato Douglass tract, the Campbell tract and a small tract near Rheuhannah (Ruhamer) Church, were to be sold by the court and the proceeds divided among the heirs. (IBID., page 102) This plan of division was submitted to the county court in mid-May 1923 and it was accepted by the court by decree, July 23, 1923. (IBID., pages 92-106)
The plats drawn to delineate the widow's and the other heirs' shares (IBID., pages 103, 105):
(Page 36)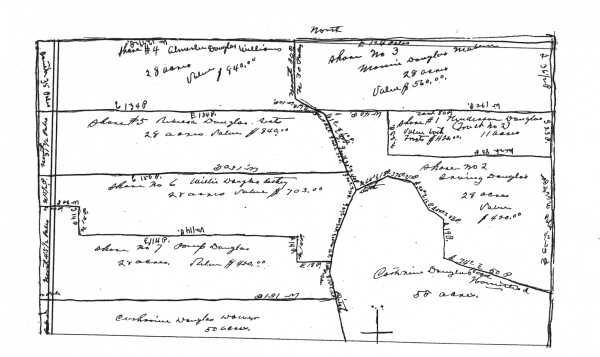 Larger image available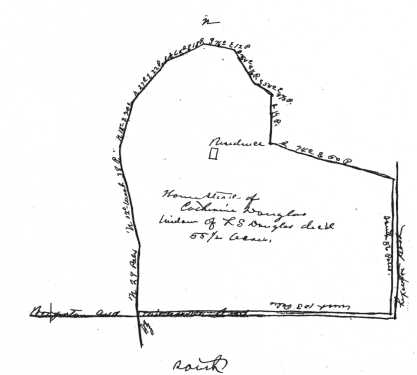 Larger image available
On September 1, 1923 the county clerk sold the previously reported 260 acres which turned out to be 215 acres: the Cato Douglass tract, 160 acres; the Campbell tract, 50 acres; the 5 acre tract, were bid-off, the winning bid $654 being that of Ernest Seats to whom this acreage was confirmed. (IBID., pages 128-130)
An additional year's provisions were provided from the estate for Catherine Douglass and her son of a former marriage, Howard Knight as he had been a member of the Douglass household, November 23, 1923. (IBID., page 167)
On February 9, 1926 the court noted that the 28 acre Mebane, Williams, Seats, Cathey shares had not been paid, equalized, by these heirs and were ordered sold. (IBID., pages 494-499)
The shares of Henderson, Irvin. and Pomp Douglass were confirmed to them; Sylvester and Ora Henry were each awarded $467 for their shares. (IBID., page 498)
In 1925, the children of Dr. L. S. Douglass took Catherine Douglass into Chancery Court, attempting to have her dower and homestead overturned as they claimed that she had knowingly married Dr. Douglass while still married to her former husband who was still living. She responded that she had been abandoned, had not heard from him and thought that this first husband had died and that she was free to remarry. The court ruled in her favor, November 4, 1925. (Henderson County Chancery Court Minute Book 17, pages 523-525) The heirs tried once again and the court made the same ruling, October 7, 1926 (IBID., Minute Book 18, pages 149-151)and they appealed to the Court of Appeals, Western Division of Tennessee, which ruled against them in the spring of 1927, confirming the July 23, 1923 division of the estate by the county court. (IBID., pages 506-508)
In an effort to pay the legal fees of E. W. Essary, the lawyer who had assisted in the disposition of the Douglass real estate, the children of Dr. Douglass conveyed their supposed-interest in the widow's homestead and dower, about 105 acres, to Essary, noting her life interest in same, May 14, 1924. (Henderson County Trust Deed Book 53, pge 398; registered May 29, 1928) Essary foreclosed on the Douglasses in December 1934 but the widow's interest remained intact. (IBID., Deed Book 55, page 4148) Finally, Essary bought Catherine
(Page 37)
Douglass' share for $75 on February 27, 1937. (IBID., Deed Book 57, page 412; registered March 3, 1937) She was then living in Nashville where in old age she died. Thus had passed once and finally from the Douglass family the Dr. L. S. Douglass residential tract.
According to Jurlean Douglass McGil, the granddaughter of Dr. L. S. Douglass, whose father, Pomp Douglass and family rented and lived in the old residence for several years in the twenties, the residence stood on a small rise a good distance west of what is now Union Cross Road, reached from this road over a lane. Interstate 40 now covers some of the site. Just as one drives over the Union Cross Road bridge, over the interstate, one looks to the west to visualize the former setting of the old Douglass residence.
NOTE
The photograph of Dr. Louis S. Douglass on the first page of this sketch was provided by his granddaughter, Mrs. Ella May McCullough, with the assistance of Mr. Robert D. Taylor, Jr. It is a copy from the original photograph, an enlargement taken of the doctor when he was a medical student, which likeness was owned by his youngest daughter, Anjalee Williams of Benton Harbor, Michigan. The signature under the photograph is that of Dr. Douglass taken from his application for marriage to Catherine Garrett.