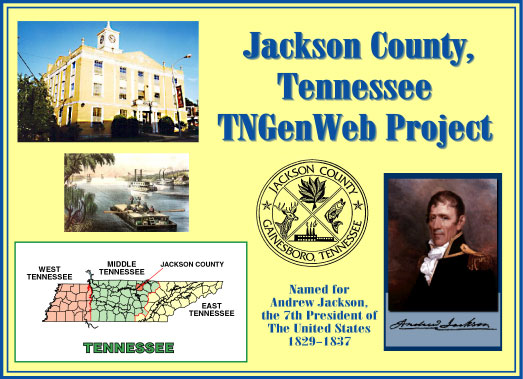 If you have reached this site looking for the city of Jackson, TN, you are in the wrong county. Jackson is in Madison County.

NOTE: Due to a massive reworking of the TN State Library and Archives site, almost all of the links to that site on these pages are broken. Because of the massive number of them (over 300 on the four sites we manage), it will be awhile before they get fixed. The best we can do in the interim is refer you to the new URL for the site and wish you luck finding your records:
http://www.tennessee.gov/tsla/
If you do find the new addresses (URLs) for broken links on these pages, if you will send them to Charles Reeves, Jr., I'll correct them. Thanks.
The United States Reference Unit at the Family History Library has launched a Research Guide for Jackson County, Tennessee in the new FamilySearch Wiki format. Anyone who wishes to can register and add material or make changes.
Files uploaded 9/11/18: PDF images of Jackson County Register of Deeds; Deed Index - Direct & Reverse, Vol. A. 1872-1915