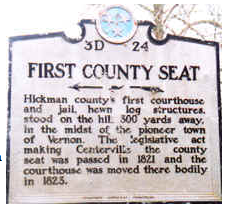 There are many different categories relating to genealogy and history on this website that may assist you in your Hickman County genealogy research. You'll find indexes, actual records, transcriptions and much more. I'm always looking for new contributions, too!


HICKMAN COUNTY HISTORY
In December 1807, when the Tennessee General Assembly created a new county, then Representative Robert Weakley attached an amendment to the bill specifying that the new county should be named in honor of Edwin Hickman. The history of Hickman County began before Tennessee achieved statehood in 1796. In April 1791, Edwin Hickman, a native of North Carolina, led a surveying party into what is now Hickman County. Hickman' party included James Robertson, Robert Weakley, and others. The party camped at the mouth of a small creek on the north side of Duck River opposite the present site of Centerville.
Hickman County was created December 3, 1807 from Dickson County, Tennessee. Hickman's county records start with birth records in 1908; marriage records in 1868; death records in 1909; census records in 1820; land records in 1808; and, probate records in 1866. The Hickman County courthouse was burned in 1865 (with loss of some records before this year), during the Civil War.