Roy Acuff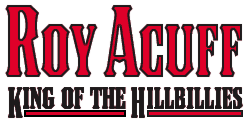 They called him many things, from King of the Hillbillies to King of Country Music. He was the best selling country star in the 1930s and 40s. In November 1962, he became the first living musician to be honored as a member of the Country Music Hall of Fame. His music made WSM's Grand Ole Opry a national cultural institution and made him county music's first Superstar.
Acuff was born 15 September 1903 in Maynardsville, Union County Tennessee. He grew up singing in the church choir and playing baseball. As a young man, he had hopes of becoming professional baseball player however an injury soon ended his short lived career.
Acuff turned to fiddle playing by learning to play his father's fiddle. He, along with other musicians, went on the road with traveling medicine show. He formed a band, the Crazy Tennesseans, and in 1934, Roy and his band began auditioning for WNOX in Knoxville, Tennessee. During these formative years, the band experimented with popular crooning styles mixed in with traditional country sounds, however Acuff preferred hillbilly music. In 1936, he recorded "The Great Speckled Bird" – a song that would make him famous.
In 1938, Acuff and his band finally got the opportunity to perform on the WSM's Grand Ole Opry in Nashville. It was his authentic hillbilly style that made him so popular, and he soon became a featured performer at the Opry.
Acuff changed the name of his band to the Smoky Mountain Boys. With the hillbilly songs, and vaudeville and slapstick performances, Acuff and company delighted America well into the early 1990s. However, he did not delight the Tennessee Governor, Jim Nance McCord. Acuff was charged by the Governor as being personally responsible for turning Nashville into the hillbilly capitol of the world. Acuff in turn sought the office of Governor, but lost.
Along with Chicago songwriter Fred Rose, Acuff founded the Acuff-Rose music publishing house. Acuff-Rose gave many country musicians their first start as songwriters and also produced hits for many others. Hank Williams, the Everly Brothers and Roy Orbison all got their start writing for Acuff-Rose.

Roy Acuff, Master Mason
After being initiated as an Entered Apprentice at the East Nashville Lodge No. 560, F. & A.M., in 1943, he was raised to Master Mason in 1944. He was made a 33rd Degree Mason on 21 October 1985.
Roy Claxton Acuff died 23 November 1992 after a short illness; his remains are interred at Spring Hill Cemetery, Nashville, Davidson County Tennessee. His immortal soul has left us to "join that Heavenly band."
---