TNGenWeb Project
Knox County Tennessee
Letters from Forgotten Ancestors
---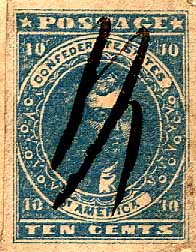 Taking Tansey Bitters~ 1863
Copyright © 1997, Frederick Smoot. All Rights Reserved.
---
KNOX TN 1,
Manuscript postmark on C. S. A. 10 cent blue stamp. Not tied.

Addressee: Mrs M. W. Sullins
Athens Ten


Knoxville, Tennessee
August 6th 1863
Dear Mary,
It seems useless for me to wait expecting a letter from you, and will dispatch you a small one this morning I promise you at the outset not to bore you with a long letter this as I have nothing of special interest to write
The family are all very well except Filip he is not very well - came home last Saturday quite sick with bowel complaint he is a great deal better and I hope will soon be quite well again.
Ma had from Len yesterday, he says he is improving thinks the water is very good effect upon his system, the place is very much shut out from the world and they know but little of what is going on yet it is rather a pleasant place has no idea how long he will stay.
Laura has had quite a serious spell of sickness and I suppose she is not entirely out of danger yet - has inflammation of the bowels and stomach now. Lizzie has entirely recovered her health and is staying with Laura all the time now -- she was much better yesterday.
Bro David & family were over to see us the evening after he left your house - he told me very little about you, having seen you so short a time he said, I am sorry to hear Mrs Cardwell is so sick.
I am very much afraid the enemy will get E. Tenn after all. It seems that all our calamities are coming on us all at once. The news came to town yesterday that Gen. Scott had met with a great disaster over in Kentucky. It is said that most of Ashby's Regiment was captured, all of Johnny's Company, Maj Cobb, Rufe Bearden, Charlie Coffin and Col. Gillespie is missing. He was last seen by one of our men taking some rest in am ambulance. They don't know what disposition the enemy made of him - if captured he will be able to get some rest.
Scott and what is left of his command are at Tazewell. Poor Ashby is here still suffering from his wound. He will go almost wild at the loss of so much of his Regiment. It seems now that the enemy are expected in through the mountain passes as they are sending troops to Big Creek Gap - Oh! A Kingdom! For our nobel Gen.[Kirby] Smith here again, then I would not fear. There are none like him.
To change the subject a little - I want to work your chemise sleeves & yoke and fearing that they might be too small, I wish you would please me the first time you write, the size you want them, and if they are too small I can piece them before I begin to work and it will not show when done. Don't fail to do it as I'm quite much in the notion now.
Lafayette and Roche are very well. Ma spent the day with them Sunday after preaching - Lafayette still comes over every day he has given me one of his Canary birds, it is a beautiful little thing.
I told Lafayette what I had suggested to the Sullins about his bathing, he said I was right, that bathing twice a day would make him perspire too much and weaken him - that once a day is sufficient and it would be well to take some tansey bitters after bathing that is during the hot weather only taken once a day.
Mrs VanGilder wants to see you very much - says she is ready to go through the Springs with you or any place else for a trip - that is, if the Yanks don't come.
I believe that I have nothing more to write. William says please write and let him know whether he can get the wheat. He has just come to his dinner and report that Maj Cobb and Col Gillespie as having got in -- "cleaned their shirts" -- the other are gone though - about six hundred of the command.
Be sure to send the size of the yoke & sleeves.
Don't know when I'll write again - love to Bro Sullins
Yours Affly


Signed: Harriet

Notes:
The Gen. Scott mentioned in the text was Thomas Moore Scott. He was born in Georgia, later moving to Louisiana, where in 2862, he joined the Louisiana Infantry. He was elected colonel while in Kentucky. General Scott was severely wounded at the battle of Franklin, Tennessee. He died in New Orleans in 1876.
From the Collection of Frederick Smoot
Provenance: Gordon McHenry, Civil War Letter Dealer ~ 1997
---
Return to "Letters" Home Page to Select More Letters
---
Return to Tennessee Genealogy Counties Page
---

Copyright 1997