The Stewart County Virtual Museum
Welcome to the Stewart County Virtual Museum! A collection of photographs of actual events in Stewart County, or artifacts originating here, this museum is build of "finds" contributed by Stewart County Genealogy List Members as they hold periodic "Scavenger Hunts". Those artifacts listed but not yet linked are "YET UNFOUND"! If you can contribute one of these "lost unfound items", send a jpg to Jan . Please also send ideas for more "Scavenger Hunts"!
Five or More Generations of a Stewart Co. Family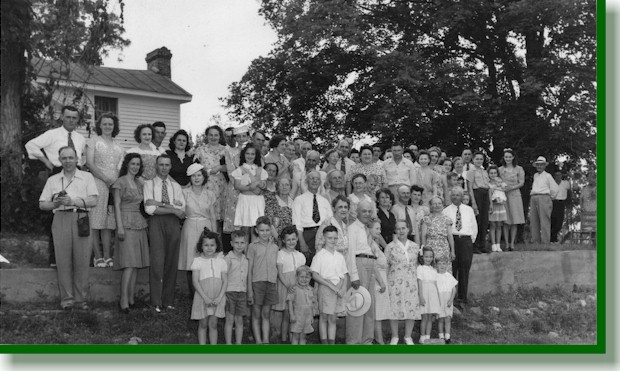 Find made by Sandy Ellis, sjellis@mindspring.com: "I was told that this photo is of an Ellis gathering. The photo was made outside the Matt Walker home in Stewart County. (Matt Walker married Ora Ellis.) I know a few of the people--thought it would be interesting to see if anyone else knows anyone in the photo!"
Stewart Countians in full-length dress pre-1915-TWO of them!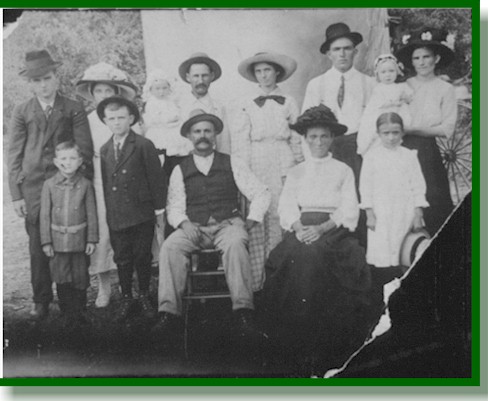 Find made by Brenda C. at Bccaugh@aol.com. This is the Kirksey family. circa 1913. Top row - left to right Samuel Kirksey Waffie Kirksey Irene Phillips - the baby (daughter of Joseph & Nancy) Joseph Phillips Nancy (KIRKSEY) Phillips Thomas Kirksey Oneal Kirksey (son of Thomas & Hattie) Hattie (BARNES) KirkseyBottom row - left to right Buford Phillips (son of Joseph & Nancy) Eugene Kirksey Thomas Wiley Kirksey (my great grandfather) Marry Francis (BRYANT) Kirksey (my great grandmother) Nora Elizabeth Kirksey (my grandmother) ALSO BELOW SEE ANOTHER ONE!!!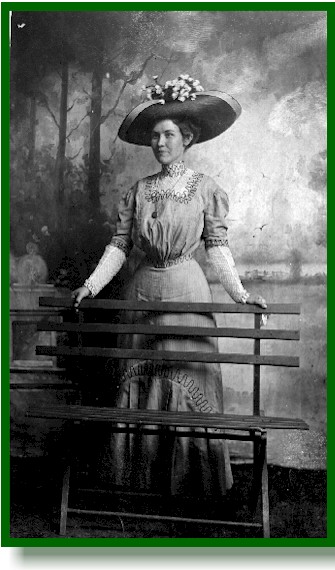 .
Find made byLouise Guinn, Thrith@aol.com. The picture is of Florence Patillo, sister of Elizabeth Patillo, the first wife of Dr. Erastus Madison Cherry, who practiced medicine in Big Rock, then Clarksville. It should be noted that there are still 2 living children of Eliz., one of whom identified the picture for me.
Photo of Model A or T...Which is it? Does anyone know?

Find made by Brenda C. at Bccaugh@aol.com.The man in the picture is Albert Hershel Barnes - my grandfather. He is the son of Barnett Wesley Barnes & Mary Ann Holly. I have no idea what year the picture was taken. The family always lived around what is known now as Upper Hurricane Creek. Am I right about this being a Model A or T? Don't know the old cars too well.
Tombstone in Stewart County over 100 Years Old

Find made by Debbie Champion. Here is a photo of a headstone over 100 years old. It is in fact almost 140! It is the headstone of Mary Nelson Herndon Champion, wife of Orville Champion. She was born 1/15/1813 and died 10/22/1860. She is buried in the Champion Cemetery in Land Between Lakes.