G. C. Robertson Family Gateway
Information and photos shared by Ron Simpkins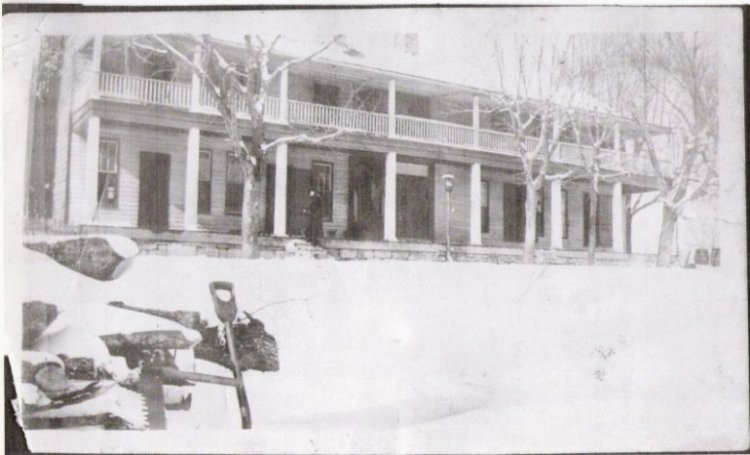 Robertson Hotel, Petty St., Dover
The hotel was built before the civil war, and was torn down in 1974. It was located just up from the Dover Hotel (Surrender House) on Petty St. You can still see the rock foundation for part of it. The Cumberland Electric Company owns the land now and it is used as a storage lot.
My g grandfather George Cord Robertson ran the hotel from the late 1860s till his death in 1904. My g grandmother continued to run it til her death in 1918. There is info on Goodspeed and McClain's History Of Stewart County of my g grandfather running the hotel and later buying it from J.W. Rice on January 29, 1879. My g grandfather is also listed in McClains History as a Saloon, Grocery, Hardware, and barbershop owner.
During the Civil War is was used as a hospital by the Union Army. When the town of Dover was burned by Union Soldiers, it was one of only four buildings they did not burn down. I have talked to many in Dover who remember the Robertson Hotel, and one member of TNSTEWAR-L who said his aunt lived there when it was a boarding house and he remembered blood stains in some of the rooms in 1959. There was quite an uproar in Dover when the city let it be tore down.
Betsy Martin Tumelson recalled in 2001, "Oh, how I do remember the old Robertson Hotel, just up the street from our old home. Mrs. Mattie Morgan owned it during the 50s and 60s. Sometime later, our cooperative electric corporation bought the property, and tore down the old hotel and created a service yard for poles and transformers, etc. My mother Destine Martin, grieved so, that that beautiful historic home was razed. It looked like a beautiful steam boat with the balconies and all. A concrete slave block stood in the side yard next to the Milligan home. Some of the foundation stonework is still there. The Milligan home has been moved to the other side of street."
My Robertson Family in Dover
My g grandfather George Cord Robertson first appears in the Stewart County Census for 1850 age 12, his parents were George and Sarah Robertson. He enlisted in Co E 14th Tn Inf CSA in Dover, Tn on May 18,1861 so he must have been in Stewart County in 1860 Census but not found yet. His muster files states he was a POW captured at Fredricksburg,Va 12/13/62; paroled but not exchanged. He was captured again at Middleton, Pa. 7/4/1863 after Gettysburg and a POW sent to Ft. Deleware, Deleware, was paroled Feb 27 1865 and sent back to City Point,Va. and was present with his company on Feb 28, 1865. He married Mary Eads on August 2, 1869, in Dover. Tn. She was the daughter of John B. Eads and Drucilla Lake Eads. They were married in Montgomery County, and I think that is where my g grandfather was also born.
G.C. Robertson born 1838 died 1904 g grandfather buried City Cemetery
Mary Robertson born 1854 died 1918 g grandmother buried City Cemetery
Woodrow "Woods" Robertson born 1871 died 1934 buried City Cemetery
Florence S Robertson born 1873 died 1961 married a George Dobson who died in 1931. both buried in City Cemetery
Henry Robertson born 1875 died 1950 buried in McCracken County, Ky.
Tennie Robertson born 1878 died 1958 married a Sanford Krone from Lyon County, Ky. buried at Dycusburg, Ky.........my grandparents
John E. Robertson born 1882 died 1954 married an Effie Boswell, she died in 1984. John ran the barbershop in town square. Both buried in City Cemetery
Grover C. Robertson born 1885 stone in City Cemetery says 1935, but obit says he was 67 when he died, so his stone should have 1952. I have a picture of him taken in 1937.
Mrs. G.C. Robertson Sudden Call (probably Dover or Clarksville newspaper, a few days after Nov. 21, 1918)
The people of this vicinity were very much shocked when it was announced that Mrs. Mary Robertson had died about 8:30 o'clock last Sunday night. She had been ailing for some weeks but did not appear seriously sick. She sat up and ate dinner Sunday. Later in the evening she complained of being too warm. Mrs. Florence Dobson, her daughter, was with her and called the doctor. They thought the attack would soon wear off but she grew worse and about 7 o'clock her condition became critical and the doctor was summoned again but she did not rally, and death resulted.
Mrs. G.C.Robertson was the widow of G.C. Robertson deceased and was 64 years old. She belonged to the M.E. Church.
Mrs. Mary Robertson who died last Sunday, was the oldest hotel keeper in the state in point of service. She ran the Robertson Hotel continuosly for 43 years. She worked hard and hardly ever leaving her home, only on rare occasions. She was the mother of five son's and two daughters living. Woods Robertson, of Cairo, ILL, Henry Robertson of Paducah, Ky., Arthur Robertson , of Gilbertsville, Ky., Mrs. Tennie Krone of Fredonia, Ky., and Mrs. Florence Dobson of Helena, Ark. She was laid to rest in the City Cemetery at 9 o'clock Tuesday morning in the presence of all her children excrpt Mrs. Tennie Krone who was unable to be here. Her sister-in-law Sophronia Robertson of Nashville and a large number of her friends and neighbors. A good friend, a neighbor and a noble woman has gone to rest.
My ancestors lived in Dover from 1850 and the last one died in 1984. In the late 40s and early 50s when I was a youngster my family would visit Dover a lot. My g aunt Florence S. Robertson Dobson lived right next door to the Dover Hotel (Surrender House). My g uncle John Robertson ran the barbershop in town square next to Dill's. He died in 1954. His wife was Effie "Boswell" Robertson. She died in 1984.
ED WALTER TO G.C. ROBERTSON
I HERBY CONVEY TO G.C. ROBERTSON FOR THE CONSIDERATION OF ONE THOUSAND DOLLARS TO ME PAIDAND TO BE PAID AS FOLLOWS TO WITH FIVE HUNDRED DOLLARS TO ME CASH IN HAND PAID THE RECEIPT OF WHICH IS HEREBY ACKNOWLEDGED AND A NOTE EXECUTED TO ME FOR FIVE HUNDRED DOLLARS DUE ONE DAY AFTER DATE TWO CERTAIN LOTS IN STEWART COUNTY STATE OF TENNESSEE DISTRICT NO. 7 IN THE TOWN OF DOVER AND KNOWN AND DESIGNATD IN THE PLAN OF SAID TOWN AS LOT NO. 108 BEING THE LOT ON WHICH THE OLD TAVERN STANDS AND KNOWN AS THE HOUSE IN WHICH JUDSON HORN FORMERLY KEPT THE HOTEL AND THE ONE WHICH IS NOW OCCUPIED BY THE SAID G.C. ROBERTSON AS A TAVERN AND ALSO A PART OF LOT NO. 77 BEING THE PART ON WHICH THE STABLE IS NOW SITUATED ON THE EAST SIDE OF PETTY STREET RUNNING EAST TO THE OLD CARDING MACHINE LOT NOW OWNED BY J.R. SMITH ALSO EXCEPTING A PART OF SAID LOT ON THE CORNER OF SPRING AND PETTY STREET.. TO S.W. PUCKETT AND I WARRANT THE TITLE TO SAID LOTS HEREIN CONVEYD TO THE SAID G.C. ROBERTSON AGAINST ALL PERSONS WHOMSOEVER SUBJECT. HOWEVER TO A LINE ON THE SAME FOR THE BALANCE OF THE PURCHASING MONEY. THIS 10TH DAY OF NOVEMBER 1877.
ED WALTER.
J.W. RICE TO G.C.ROBERTSON
FOR THE CONSIDERATION OF ONE HUNDRED AND TWELVE DOLLARS AND 50/100 TO ME IN HAND PAID THE RECEIPT OF WHICH IS HEREBY ACKNOWLEDGED, I HAVE THIS DAY BARGAINED AND SOLD AND DO HEREBY TRANSFER AND CONVEY UNTO G.C. ROBERTSON HIS HEIRS AND ASSIGNED FOREVER THE FOLLOWING LOT OF LAND LYING IN STEWART COUNTY TENNESSEE IN DISTRICE NO. 7 AND IN THE TOWN OF DOVER KNOWN AND DESIGNATED IN THE PLAN OF SAID TOWN AS LOT NO. 109 AND JOINING ON THE NORTH THE HOTEL NOW KEPT BY G.C. ROBERTSON IT BEING THE LOT UPON WHICH J.E. RICE RESIDED UP TO JULY 16, 1862. TO HAVE AND TO HOLD TO THE SAID G.C. ROBERTSON HIS HEIRS AND ASSIGNS FOREVER AND I HEREBY BIND MYSELF TO WARRANT AND FOREVER DEFINE THE TITTLE TO SAID LAND AGAINST THE LAWFUL CLAIMS OF ALL PERSONS WHOMSOEVER GIVEN UNDER MY HAND THIS JANUARY 29, 1879 J.W. RICE
BLYE RICE
JOEL R. SMITH TO G.C. ROBERTSON
I J.R. SMITH DO HEREBY CONVEY TO G.C. ROBERTSON FOR THE CONSIDERATION OF FORTY DOLLARS TO ME CASH IN HAND PAID THE RECEIPT OF WHICH I HEREBY ACKNOWLEDGE A PART OF A CERTAIN LOT IN THE TOWN OF DOVER STEWART COUNTY STATE OF TENNESSEE DISTRICT NO. 7 AND KNOWN AND DESIGINATED IN THE PLAN OF SAID TOWN AS LOT NO. 77 AND BEING THE LOT ON WHICH THE OLD WOOL CARDING MACHING WAS ONCE SITUATED EXCEPT 75 FEET NOT INCLUDING IN THIS CONVEYANCE LIES BETWEEN THE LOT HEREIN CONVEYED AND PETTY STREET AND I WARRANT THE TITLE TO SAID PART OF SAID LOT TO THE SAID G.C. ROBERTSON AND HIS HEIRS AGAINST ALL PERSONS WHOMSOEVER THIS APRIL 1, 1880 J.R. SMITH
---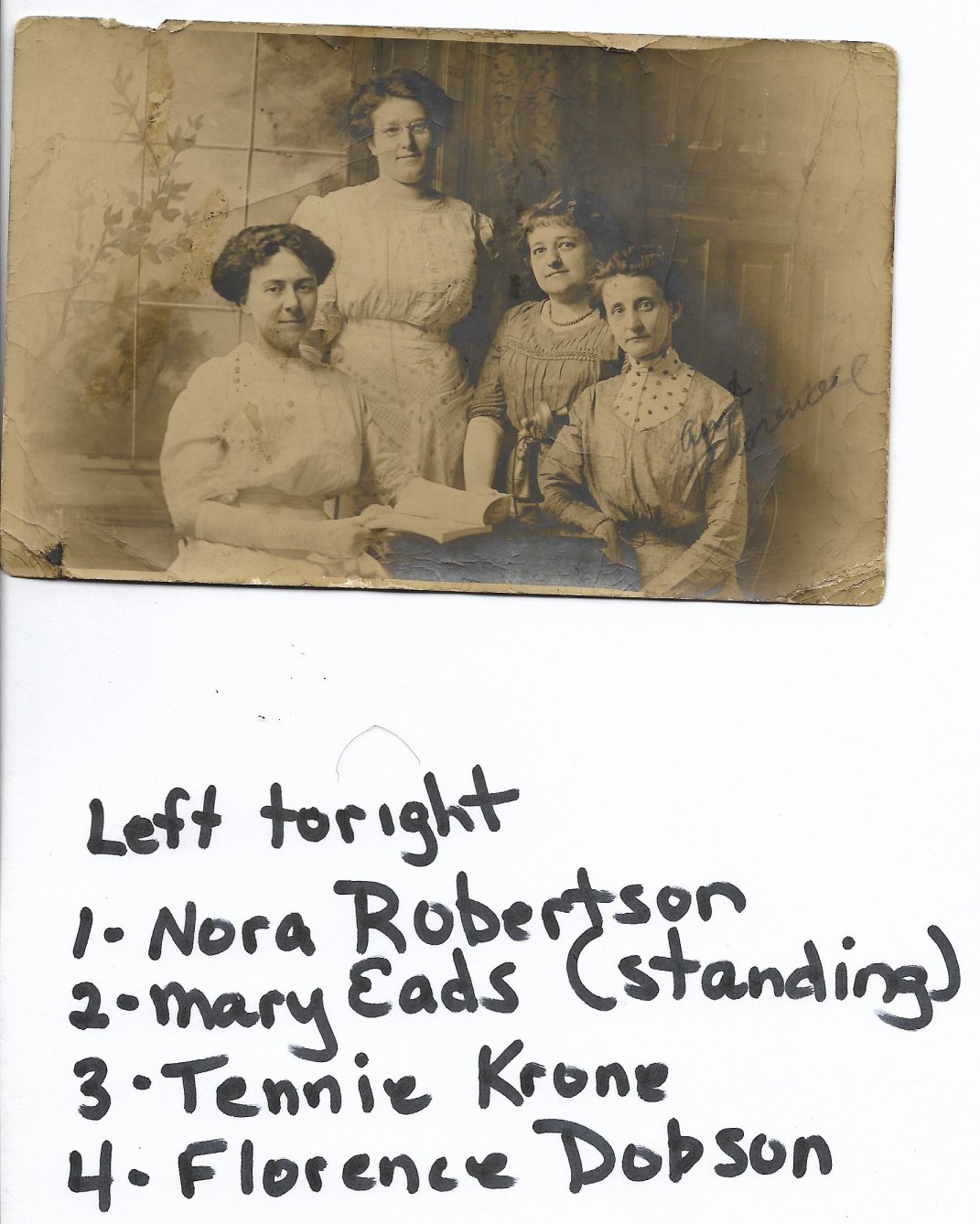 Nora Robertson, wife of Woods Robertson
Mary Robertson, wife of G. C. Robertson
Tennie Edna Robertson, my Grandmother, married Sanford Krone, Lyon Co KY.
Florence Robertson married George Dobson.
They all are buried in Dover City Cemetery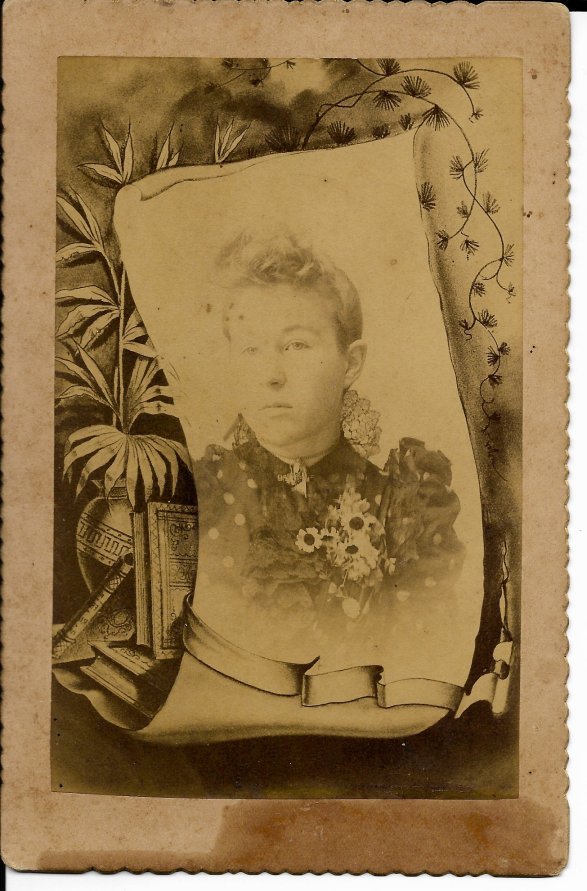 Sofronie Robertson, "sister-in-law"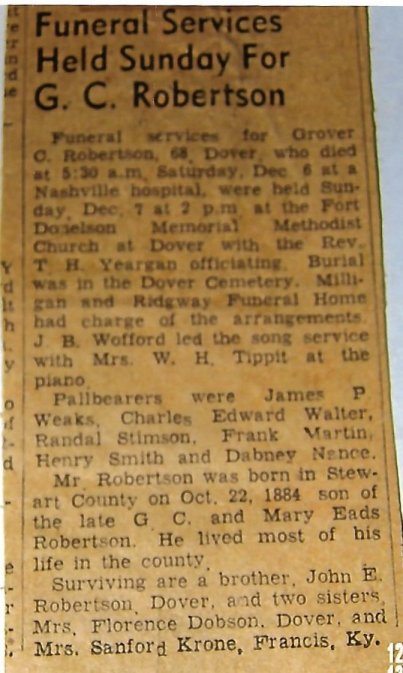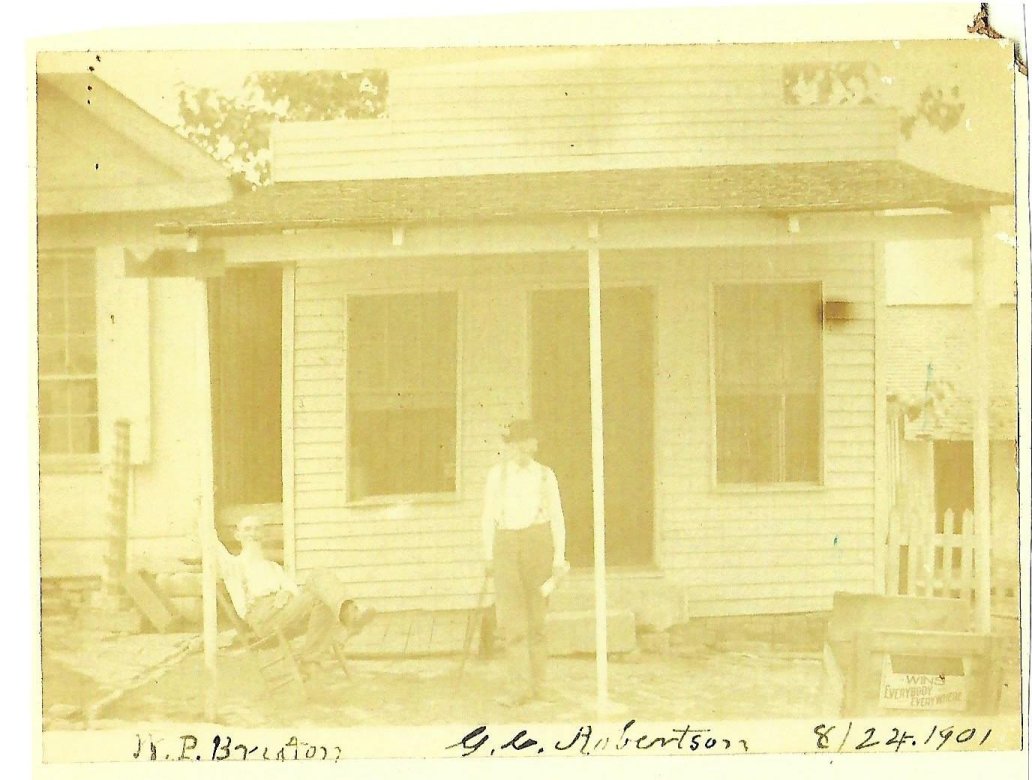 G. C. Robertson at W. P. Bruton's barber shop, Dover, 1901
Dover town plat, 1911