Shadrack Byrd Family Gateway

Information shared by Kenneth Byrd and John W. Byrd
---
Shadrack Byrd inventory of estate (18 Jun 1814)
James Bird administrator's bond (1845)
William C. Byrd land grant from the State of Kentucky (18 Sep 1848)
William C. Byrd deed to Frances W. Marberry (3 Apr 1849)
John Wesley "Jack" Byrd, estate sale (6 Aug 1866)
John Wesley "Jack" Byrd, estate inventory (Sep 1866)
William C. Byrd deed to George W. Byrd (1 Jun 1870)
pages from the Bible of John Wesley Byrd
William Carroll Byrd (1815-1875) family sketch and documents
Bryant Byrd documents
Civil War research on the Byrd family
Southern Born and Southern Bred: A Genealogical Study, Vol. 2 - The Byrd Family, by John William Byrd
---
Biography of Shadrack Byrd
Shadrack Byrd
(b. 1750 Bertie Co. NC – d. Apr. 30, 1814 Byrd Creek, Stewart Co. TN)
According to Byrd family historian and great-granddaughter of Shadrack Byrd, Cleo Cherry Grogan of Murray, KY, Shadrack Byrd was born in 1750, Bertie Co. NC. His first name is variously spelled as Shadrack, Shederick, Shadrach, Shadrick, Shedrich, and Shaderick in the historical documents that mention him.
Recently, both Michael K. Byrd of Huntsville, AL and Dr. Thomas M. Byrd of Cary, NC have kindly shared information with me that confirms Shadrack Byrd's father, Robert Byrd Sr., lived in Bertie Co. NC between 1727 and 1753. Robert Byrd Sr. moved to the Faison area of Duplin Co. NC in the late 1750s; land he purchased between 1758-1769 along Reedy Branch was probably where Shadrack Byrd and his sibs, including Joshua, Rachel, John, Rebeckah, Daniel, Michael, Susannah, and Robert Jr. grew up during the years before the Revolutionary War. Shadrack appears to be the oldest child of Robert Byrd Sr. and Sarah Byrd.
On page 49 of the book Revolutionary War Records, Duplin and Sampson Counties, North Carolina, Contributions to Genealogy by V.L. Bizzell and O.M. Bizzell (1997, Sampson County Historical Society, Newton Grove, NC, LOC 97-065743), Shadrick [sic] Byrd and his brothers Michael and Robert Jr. are all listed as having been soldiers in the North Carolina Militia. Both Private Shadrack Byrd and Private Robert Byrd Jr. are described as having seen action at the Battle of Moore's Creek Bridge on Feb. 27, 1776. Shadrack is documented as having served under Captain William Dickson and Colonel James Kenan for 14 days during the Moore's Creek Bridge campaign and received 2 pounds/12 shillings as pay. Later auditors stated that he had been overpaid, but in North Carolina Revolutionary War Army Accounts (Vol. V, Bk 176) there is a voucher (#3868 M) paying him 5 pounds/17 shillings. Apparently Shadrack Byrd and his brother Robert Jr. were part of the 300-man Duplin County Militia that marched with Colonel James Kenan down to the vicinity of Cross Creek (modern-day Fayetteville), approximately 20 miles Northwest of Wilmington, NC. During the actual battle, Shadrack's captain, William Dickson, had a horse shot from under him (Bizzell & Bizzell, 1997). The battle was an unqualified success for the Patriot forces: Loyalist forces suffered 30 killed, 40 wounded, and 850 captured; only one Patriot soldier died. More details can be read at this website: http://prioris.dcr.state.nc.us/nc/ncsites/moores.htm. The above information was made available to me by the very kind help of Jerome Tew, Goldsboro NC.
Information provided by Dr. Thomas M. Byrd indicates that Shadrack Byrd purchased 138 acres of land from Douglass Powell Jr. in Duplin Co. on July 17, 1778; this land was along Youngs Swamp and Wolf Pit Branch. Shadrack then sells this land for a tidy profit on Aug. 24, 1778 (Duplin Co. Deed Books 6, p. 94 and 5, p. 455). On Nov. 29, 1778 a Duplin Co. marriage bond was issued for Shadrack Bird [sic] and [Nancy] Ann Guy; Robert Byrd [sic] was listed as the bondsman.
According to Cleo Cherry Grogan in Murray, KY, Shadrack Byrd married Nancy Young, "a German girl"; in addition, Cleo has written "..it is stated that Shederick Byrd [sic] was an Englishman and lived in Georgia, and was a spy in the colonial army in the Revolutionary War. Tom Patterson was his brother-in-law and they served together as U.S. spies for seven years." This information was apparently recorded by one of Shadrack Byrd's daughters, Susanna Byrd McKinney, who lived in the Murray, Calloway Co. KY area. To date, there are no documents confirming that Nancy Byrd's maiden name was indeed Young rather than Guy; in addition, Dr. Thomas M. Byrd has found a Duplin Co. NC will for Samuel Guy (Aug. 16, 1794, Duplin Co. Will Book A, p.171) listing Nancy Byrd [sic] as his daughter and to receive "..the cow and calf and the bed that I lent to her soon after her marriage." It is very interesting to note, however, that the land in Duplin Co. that Shadrack Byrd purchased/sold in 1778 was indeed along Youngs Swamp (emphasis mine, KEB). Also, the mystery re Shadrack's supposed brother-in-law, Tom Patterson, is also unresolved. Jerome Tew has found a Tom Patterson in NC, but not close to Duplin County (email of 12/03/00).
Shadrack Byrd is listed in several Duplin Co. documents between 1778 up through 1787; he does not appear on the 1788 Duplin Co. taxlist. Dr. Thomas M. Byrd has found a Duplin Co. document dated Jan. 21, 1791 listing insolvents for 1789 – Shadrick Byrd [sic] is on this list. It is uncertain if this listing indicates that Shadrack Byrd was "absent/gone" or "couldn't pay".
Shadrack Byrd next appears in Washington Co., GA in a listing of "Substitutes for the 1790 Missing Georgia Census, p. 158". Shadrick Burd [sic] is listed in a muster roll of Capt. McCavy's (5th) Company, 1st Battalion, 2nd Regiment of Washington County (recorded 1793?). Also in this company muster roll is listed Stephan Powel [sic] – a possible relation of the Powells in Duplin Co. NC???
Cleo Cherry Grogan lists the children of Shadrack Byrd and Nancy Ann Guy [Young?] Byrd as follows:
Bryant Byrd (b. ? – d. ? married? children?) assuming he is the oldest son since he was the administrator of Shadrack Byrd's estate in Stewart Co. TN, 1814.
Charity Byrd (b. ? – d. ?) married Thomas Berry on Sept. 17, 1801 at ??.
Susanna Byrd (b. Feb. 28, 1791 Washington Co. GA – d. Aug. 17, 1876 Calloway Co. KY) married Isaac McKinney on ??.
John Wesley "Jack" Byrd (b. Jan. 1792 Washington Co. GA – d. July 3, 1866 Byrd Creek, Stewart Co. TN) married Luna Louisa Brigham on Oct. 27, 1814 Stewart Co. TN (my great-great-great-grandparents – KEB).
Rebecca Byrd (b. Oct. 8, 1792 Washington Co. GA – d. Feb. 2, 1859 Stewart Co. TN?) married John Kirksey ~1817 at ??.
James Byrd (b. ? Christian Co. KY – d. 1849 Stewart Co. TN) married Harriet Brigham on Aug. 20, 1814 in Stewart Co. TN.
Shadrack Bird(e) [sic] is listed as receiving 117 acres along "Birds Creek" in Christian Co. KY on April 9, 1799 (Kentucky State Archives Old Land Grants microfilm, Book 9, pp. 478-479; Christian Co. KY Survey Book 1, p. 285); this deed was signed by then Governor Charles Scott and recorded on Jan. 13, 1812. Cleo Cherry Grogan asserts that this particular land grant was for Shadrack's service during the Revolutionary War and is located near modern-day Cadiz, Trigg Co. KY. Shadrack Byrd is listed in the 1800, 1801, and 1802 Christian Co. KY tax lists; he is also listed on page 20 of the Christian Co. KY Court Order book (B, part 1) as being "..exempted from working on Publick roads hereafter in Christian County." The 1810 census for Christian Co. KY (p. 590) lists Shadrick Byrd [sic] and his family: free white males – 1 under 10 yrs, 1 between 10-16 yrs, 1 between 16-26 yrs, 1 at 45 yrs & over; free white females – 1 at 45 yrs & over.
Shadrach Bird [sic] next appears in an 1806 Stewart Co. TN document listing the members of Capt. John Allen's Company. It should be noted here that this part of Stewart Co. TN is immediately adjacent to Christian Co. (later Trigg Co.) KY and is today known as Land Between The Lakes (LBL) National Recreational Area (between the Tennessee and Cumberland Rivers). Also listed in this document (apparently recorded by "… Charles Polk, Esqr. 1806") is Thomas Brigham – the father of Shadrack Byrd's future daughter-in-law, Luna Louisa Brigham. According to family historian and direct descendant Cleo Cherry Grogan, sometime ~1808 or so, Shadrack Byrd sold his land in Kentucky and moved to "The Land Between The Rivers" in nearby Stewart Co. TN.
Land certificate No. 352? dated Nov. 15, 1809 obtained from the Commissioner of West Tennessee by George Ridley and entered on Jan. 21, 1811 was granted to "… Shadrack Bird [sic] apignee of the said George Ridley.." on the "…Lick Creek waters of Tennessee River on the North Side." This land transaction was recorded on Feb. 3, 1815 (Stewart Co. TN land deed microfilm, roll 67, Book E-5, pp. 131-132).
An 1812 tax list for Captain Gray's Company in Stewart Co. TN (and recorded by William King, J.P.) lists Shadrach Bird [sic] and his then 20 year old son, John Bird [sic]. The oldest son of Shadrack Byrd is listed in the same 1812 tax list as Bryan Bird [sic] and being a member of Capt. Nathan Ross' Company.
A Wednesday, Feb. 4, 1813 Stewart Co. TN court minutes document (page 29) describes the following: "Shedrack Bird [sic] comes into court and produces two wolf scalps, one was six months and the other under six months old, which are burned and ordered to be certified." Apparently Shadrack Byrd was still fairly active at this time of his life.
A State of Tennessee Land Grant (#8058) entered July 22, 1813 "..by No. 11112" describes Shadrack Byrd [sic} apigne of said Ephraim Alexander (original land certificate No. 321? dated Oct. 15, 1810) receiving land on Lick Creek (later renamed Byrd Creek) on the Tennessee River and adjacent to lands of Abel Olive. This is the land of District No. 8 of Stewart Co. TN, adjacent to and surrounding modern-day Byrd Creek, Byrd Bay (which drain into the Tennessee River), and the Bailey-Byrd Cemetery in LBL.
Shadrack Byrd died on April 30, 1814 presumably at his home near the Tennessee River; the inventory of his estate recorded on June 18, 1814 (Stewart Co. TN Will Book A, p. 220; microfilm roll 52, pp. 220-222) is signed by his oldest son/administrator Bryan Bird [sic] and his widow, Nancy Bird [sic]. Many of his neighbors there in the Land Between The Rivers attended the estate sell and purchased the auctioned items. Of interest was the fact that certain items were sold to his widow, Nancy Byrd, for a low price – apparently these were favorite possessions of hers and the neighbors did not bid against her for them (see attached document).
Nancy Ann Guy [Young?] Byrd died on Oct. 21, 1833; both she and her husband Shadrack Byrd are buried today in marked, but not identified graves in the Bailey-Byrd Cemetery, LBL National Recreational Area, Stewart Co. TN. According to their great-granddaughter, Cleo Cherry Grogan, Shadrack and Nancy Byrd are buried in two of the unidentified graves towards the East end of the cemetery.
- Kenneth Elburn Byrd (great-great-great-great-grandson of Shadrack Byrd and Nancy Ann Guy [Young?] Byrd
Indianapolis, IN
Dec. 10, 2000
---
The John (Jack) Wesley Byrd Family Bible
John (Jack) Wesley Byrd was born in 1792 in Washington County, Georgia. His father was Shadrack Byrd born 1750. His mother, a little German girl, was Nancy Young/Guy?, born 1756.
John (Jack) Wesley Byrd bought this bible. All the family records, written in this bible before 1866, were written by John (Jack) Wesley Byrd. After 1866, the records written in this Bible (1866 was the year John (Jack) Wesley Byrd passed away) were recorded and written by other members of the family of John (Jack) Wesley Byrd.
At John (Jack) Wesley Byrd's death, this Bible was given to his youngest son, born Feb. 10, 1837, Riley Marion Byrd. It was kept in the family of Riley Marion Byrd until after his passing away, by his wife Martha Agnes Williams Byrd. At her death on June 9, 1926, it was given to their only son Joseph Mentor Byrd. At this time, he took the family records out of the Bible, and gave them to Mattie Cleo Cherry, the daughter of his sister, Luna Lousia Byrd Cherry. Mattie later married Oatman Grogan and became Mrs. Mattie Cleo Cherry Grogan.
Mentor Byrd was born March 28, 1885 near Ft. Henry, Stewart Co. Tennessee and died April 18, 1966 in Nashville, Davidson Co. Tennessee. In June of 1926, Joseph Mentor Byrd took this Bible of John Wesley Byrd to his brother-in-law Gus Lyon's house in Stewart County, and asked him to keep this Bible for him until he'd come by and get it at a later date. Mentor Byrd lived in Whitlock, Tennessee near Paris, Tennessee. Mentor Byrd moved to Nashville, Tennessee from Whitlock, Tennessee and never came by Gus Lyons to get his Byrd family Bible. Mentor Byrd died April 18 1966.
Gus Lyons sent this Bible of John (Jack) Wesley Byrd to Cleo Cherry Grogan by way of Lester Acree in 1980. I gave this Bible of John (Jack) Wesley Byrd to Dr. Kenneth Byrd on November 14, 2000. At Christmas time, when I sent Cousin Kenneth Byrd a letter and Christmas card to him and to his family, I mailed to him the family pages taken out of that Bible of John (Jack) Wesley Byrd and given to me by my Uncle Mentor Byrd on June 9th, 1926. All these records were written by John (Jack) Wesley Byrd until the year 1866 when he died. After 1866, the records were written by other members of the Byrd family.
John (Jack) Wesley Byrd was known as Jack Byrd by me and members of my family. My mother, Luna Louisa Byrd Cherry, was Jack Byrd's granddaughter. She thought his name was just Jack Byrd until we found out different in the John (Jack) Wesley Byrd Bible, owned by her father, Riley Marion Byrd.
- above handwritten by Cleo Cherry Grogan at Murray, Kentucky on Jan. 29, 2001.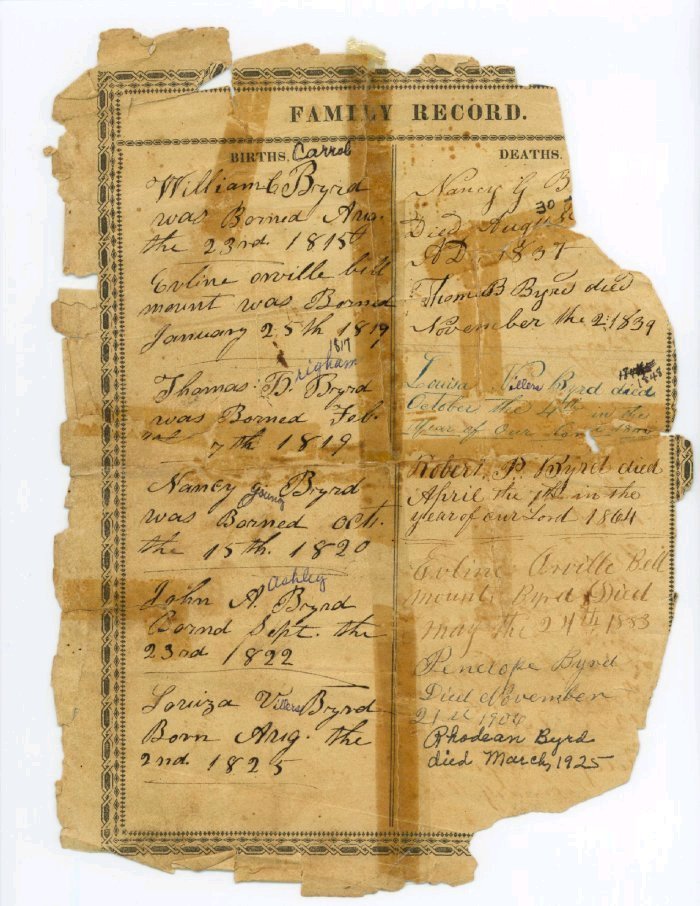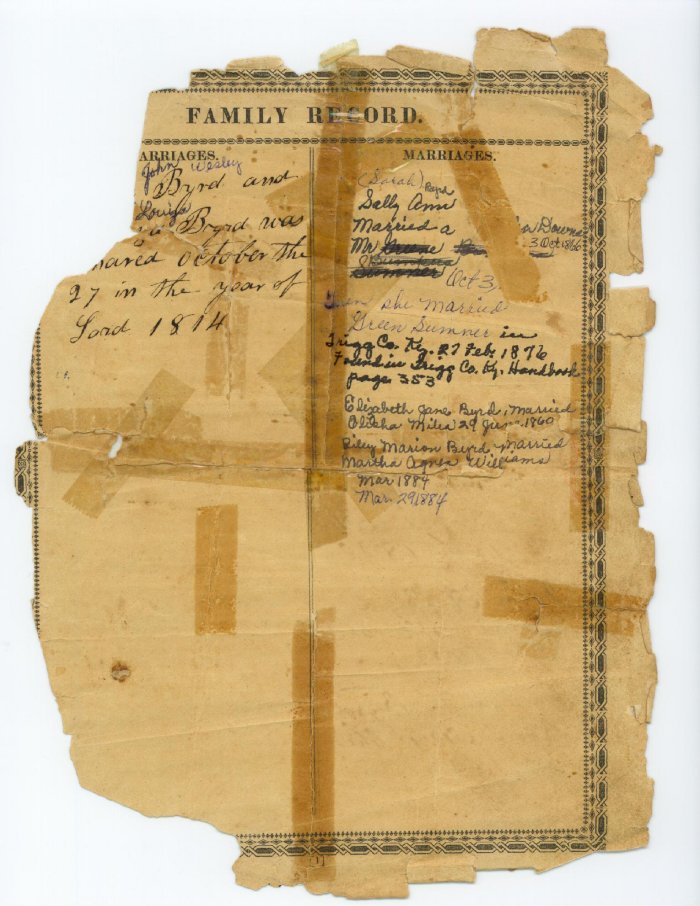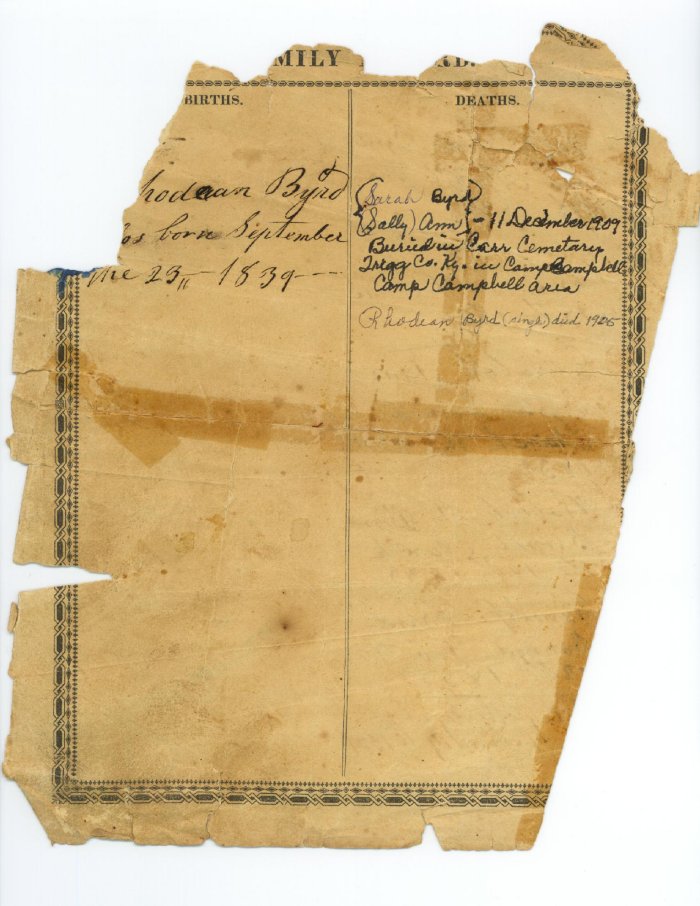 ---
Byrd-Bailey Family Reunion, July 4, 1924
Written on the back of the photo by Mattie "Cleo" Cherry Grogan in 1996 is the following (additional information in [brackets] by Ken Byrd):
1996 Nov. 9
Jim Baily [sic] Family and Relatives
Made in 1924
The only one living that's in this picture, is the boy on the bicycle – Jesse Bailey. He is now 92, a grandson of John Ashley Byrd [my ggg-uncle – KEB]. Back Row a son on bicycle Jesse Bailey, James Riley Byrd [son of John Ashley Byrd - KEB], James Austin Bailey & wife Lee Byrd Bailey, their son standing between them Rudy Bailey. Beside Lee Byrd Bailey, another son Raymond Bailey & wife Ethel Bayle Bailey, next Newell Bailey a son, the beautiful young lady in front of Newell Bailey, is a daughter of Jim & Lee Bailey, Florence Bailey Gardner, holding guitar [banjo? – KEB], in back of her, is her husband Homer Gardner. The boy beside Florence Bailey Gardner, is another son of Cousin Jim & Lee Bailey, Carter Bailey. The old lady, sitting down in front is my gr. Aunt Rhoda Byrd [my ggg-aunt and younger sister of Wm. Carroll Byrd, my gg-grandfather – KEB]. She was a sister of John Ashley Byrd. The rest of the relatives, I don't remember. Notice the little boys on front row, holding cute little puppy dogs. James Riley Byrd, is holding his suitcase, & smoking a pipe. Cousin Jim Bailey, built this house. It had upstairs rooms – I've spent many nights here, when I was a teen ager – when I was very small, my parents lived near by, & they were all very close. The first house Cousin Jim & Lee Bailey owned, burned down. Notice how James Riley Byrd's body, favors the right side of his body. He was cripled [sic]. Descendents of John Ashley Byrd except for a sister Rhoda Byrd, siting [sic] in front row.
Also see: http://archiver.rootsweb.ancestry.com/th/read/TNSTEWAR/2004-04/1083288022 for info re John Ashley Byrd (1822 – 1910) and his descendants, along with his sibs William Carroll Byrd (1815 - 1875) and Rhodean Byrd (1839-1925). Many of the people in the photo are buried in the Bailey-Byrd Cemetery, near Byrd Creek in LBL.