Stewart County, Tennessee
Great Western Furnace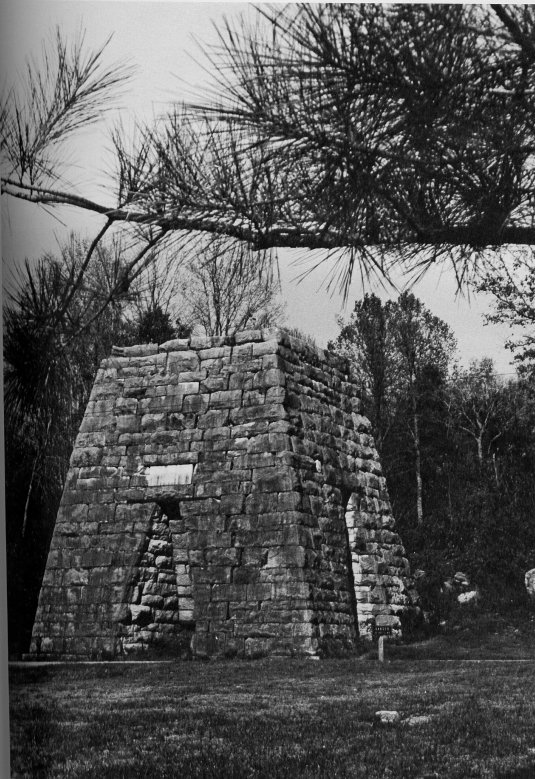 Only the ruins of the Limestone slab furnace exist today to remind us of the Great Western Iron Works. Once one of the eighteen iron manufactoring centers in Stewart County, TN. Built in 1854 by Brian Newell and Company of Nashville. Great Western operated for just one year in 1855-56. During a 34 week period in 1855 it produced 1350 tons of high quality iron. Great Western was offered for public sale by its owners, on December 20, 1856 edition of the Clarksville Jeffersonian. The advertisment specified the sale of the furnace, 8 wood slides, 4 yoke of oxen, 12 wagons and gear, oners seteach of carpenters tools and blacksmith tools. Two extra steam engines, one grist mill, 8 horse carts and harnesses, and 80 likely and valuable Negro men, experienced furnace hands. Photo and information courtesy of Cheryl Adams.
"The Great Western Iron Furnace, near the former site of Model, Tennessee, is one of the few remaining remnants of an iron industry that flourished in Land Between the Lakes during the mid-19th century. Built in 1854 by Brian, Newell & Co., this steam cold-blast charcoal furnace was constructed of limestone from the surrounding hills. Brown iron ore came from shallow deposits about two miles north. Pig iron was shipped by river or hauled to rolling mills to the east. It closed in 1856, due to lack of ore and to a slave insurrection by the furnace crew."

Photo and information from The Land Between the Rivers, by Prof. J. Milton Henry, courtesy of Deanna Wuttke.