Death Notices from the Christian Advocate,
Nashville, Tennessee 1880-1882 #2
Compiled by Jonathan Kennon Thompson Smith
Copyright, Jonathan K. T. Smith, 2005
transcribed by Laurel Baty
NASHVILLE CHRISTIAN ADVOCATE
(Page 75)
Referred from April 9, 1881, page 31 of this publication:
MOORE-JONES CEMETERY
At the juncture of highway 79-E and highway 70-A in Atwood, Tennessee, turn onto highway 70-A, drive about 2.4 miles to Clay Farm Road, turn right thereon and drive about 2.4 miles and turn right onto a short gravel lane. Park there. Walk about .1 mile a sharp southwest direction- to a wooded knoll, wherein this cemetery is located.
This began as the family graveyard of Yancy Moore who settled here about 1833. On July 8, 1874, Yancy Moore and his second wife, Catherine Moore, deeded to R. B. Moore, "a family graveyard in containing one half acre more or less situated in the 21st civil district."(Deed registered July 24, 1874. Carroll Co. Deed Book V, pages 140-41.) At Yancy Moore's death, his widow, Catharine, was awarded a 60 acre homestead and a 129 acre dower from his 300 acre farm. (Carroll Co. Court Minute Book 1, pages 579-580). At her death, in 1886, with no children of her own, Yancy Moore's children with his first wife, agreed that the farm be sold, which it was, October 7, 1886 in four tracts; the first tract was sold to a son-in-law, Benjamin F. Jones; the second tract, 81 acres, was sold to James Harvey Browning, with a reservation, "One half acre was reserved out of lot 2 for burial grounds"; the third tract was sold to C. W. Moore and the fourth to the same C. W. Moore. (Carroll Co. Court Minute Book 2, pages 18-20; 45-47; 87; 221) According to Jere Robinson Cox, curator, Browning Library, McKenzie, Tenn. , in a letter dated August 14, 2003, Gordon Weaver Browning, who eventually became a governor of Tennessee, moved with his parents, James H. and Melissa Browning, onto their purchased tract of the old Moore farm, when he was six years old and lived there until about grown.
As the cemetery was somewhat isolated, difficult to reach, Ben P. Moore (1902-1981), a grandson of Yancy and Mary A. Moore, moved all but one of the Moore tombstones to the B. P. Moore (1848-1929) lot in the Mt. Olivet Cemetery in McKenzie, Tennessee, three decades ago (as he told the present writer at the time he had this done). The remains were left intact; only the tombstones were moved.
Those tombstones moved into Mt. Olivet were:
YANCEY MOORE
Born July 11, 1799 Died Mar. 4, 1881
Our Father has gone to mansion of rest
From a region of sorrow and pain
To the glorious land by the deity blest
Where he never can suffer again.
WILLIAM H. MOORE
Born Dec. 13, 1834 Died Nov. 26, 1860
aged 25 years, 11 months, 8 days
The Lord gave and the Lord taketh away,
Blessed be the name of the Lord
Y. BURNIE
Son of R. B. & L. J. MOORE
Died Oct. 3, 1873
Aged 2 yrs. 5 dys [Sept. 28, 1871]
Suffer little children to come unto me.
[Likely buried with a fieldstone marker, CATHARINE MARTIN, second wife of Yancy MOORE, died 1886; married Dec. 20, 1850; no children. ]
MARY A. wife of YANCY MOORE
Born Nov. 8, 1811 Died Nov. 6, 1848 aged
36 yrs 11 months 28 days
Rest Mother rest in quiet sleep
GEORGE W. MOORE
Born Oct. 24, 1834 Died Mar. 11, 1862
aged 22 years, 4 months & 17 days
The sweet remembrance of the just shall
flourish when they sleep.
SUSAN A. wife of W. B. KENNON
Born Feb. 14, 1843 Died Dec. 31, 1874
Dear children, your mother kind
Must go and leave you here behind
May Jesus deign your souls to raise.
MARY P.
Daughter of Y. & M. A. MOORE
Died Feb. 2, 1874
Aged 28 years & one month
Blessed are the dead who die in the Lord.
(Page 76)
Those tombstones left intact in the Moore-Jones Cemetery:
RICHARD C.
SON OF J. B. S L. D. MOORE
Born Mar. 31, 1870 Died Mar. 18, 1871
Happy infant early blest rest in
peaceful slumber rest.
SALLIE E. wife of B. F. JONES
Sept. 4, 1838-Dec. 2, 1910
With the angels
WILLIAM B.
SON OF B. F. & S. A. JONES
Born Sept. 9, 1861 Died Jan. 25, 1884
Gone Home
O God the thought, our brother dear,
In silence rests his peaceful head.
His soul renewed by early grace
In heaven has sought its native place
ANNA E. Wife of J. W. TAYLOR
Born Mar. 19, 1864 Died Nov. 26, 1898
Thou art gone from a world of care
The bliss of heaven to share.
B. F. JONES
Feb. 8, 1825-Nov. 19, 1910
We will meet again
SARAH A. wife of B. F. JONES
Born July 10, 1829 Died Jan. 9, 1897
Safely anchored in the harbor of eternal rest
RUBY JONES CANNON
Born July 21, l875 Died August 5, 1902
At rest
Tere was an angel band in heaven
That was not quite complete
So God took our darling Ruby
To fill the vacant seat.
J. H. JONES
1860-1922
BETTIE B. wife of J. H. JONES
And daughter of THO'S. & ANN NEWBILL
Died October 12, 1883
Aged 28 years (broken, fallen stone]
There are at least three graves in this cemetery marked by fieldstones, located near the Moore graves. Almost all graves had initialed footstones.
Referring to the Yancy Moore-Mary A. Wade Moore family, from A GENEALOGICAL HISTORY OF THE CHAPPELL, DICKIE AND OTHER KINDRED FAMILIES, by Phil S. Chappell, Kansas, City, 1900, page 292:
3. Mary A. Wade was born November 8, 1810, and married Yancy Moore, December 20. 1827. They removed to Carroll County, Tennessee, in 1833, where she died November 6, 1848. Her husband died March 4, 1881. Issue:
I. Sarah A., b. July 10, 1829, m. B. F. Jones. Issue: Eleven.
II. Robert Yancy, b. May 2, 1831, m. Sarah E. Shepard. Issue: Twelve.
III. Richard B., b. January 11, 1833, m. Lou J. Goodwin. Issue: Four. Died October 3, 1883.
IV. William H., b. December 13, 1834, d. November 21, 1860.
V. Eliza J., b. October 13, 1836, m. A. E. Carter. Issue: Five.
VI. John Bailey, b. October 20, 1838, m. Louisa D. Yancy (widow). Issue: Five. Was an officer in the C. S. A., and lost a leg at the battle of Peach Tree, Ga.
VII. George Wade, b. October 24, 1839, d. March 11, 1862.
VIII. Chas. W., b. August 20, 1841, m. twice—(1) Fanny Fonville. Issue: Two. (2) Allie Tansil. Issue: Three sons.
IX. Susan A., b. February 14, 1843, m. W. B. Cannon. Issue: Three. Died December 31, 1874.
X. James Albert, b. July 20, 1844. Killed in C. S. A., December 17, 1864.
XI. Mary P., b. March 2, 1846, d. February 2, 1873.
XII. Martha F., b. August 16, 1847, m. W. T. Baird. Issue: Three. Died May 10, 1880.
XIII. Benjamin P., b. October 29, 1848, m. twice— (1) Sarah E. Dinwiddie, October 15, 1883. Issue: Two daughters. His wife died September 6, 1889. On August 6, 1896, he married, secondly, Lula Douglass. Issue: One.
(Page 77)
NASHVILLE CHRISTIAN ADVOCATE April 9, 1881, page 6
YANCEY MOORE, one of the oldest and best men of our community, has been called from "the walks of men" to "the rest that remaineth to the people of God." He was born in Person county, N. C., July 11, 1799. He professed religion in early life, and became a member of the Methodist Church, in which he lived a consistent member until death. He was an exemplary Christian, and exercised a wholesome Christian influence over his family. "Grandpa," as he was familiarly called, bore the burdens of life for more than four-score years His last years, though in affliction, were spent in great religious enjoyment. He had suffered from paralysis for some years, so that his last years were spent in decrepitude and infirmity, but he was always patient, kind, and pleasant The week before his death he called for his old Hymn-book, and as he read those old hymns, so familiar to those who sing the praises of God, he shed tears of joy—no doubt impressed that soon he would join the songs above, His sufferings were very great the last few days, and a few minutes past noon, March 4, 1881, he gently "fell on sleep," and now, no doubt, enjoys "the inheritance of the saints in light." The next day after his death we followed his remains to the family burying-ground near Trezevant, Tenn., where we laid his body to rest to await the resurrection. He leaves a weeping companion and seven children to mourn the loss of a kind and devoted husband and a good, Christian father. He also leaves a large number of grandchildren, in whose minds the memory of "Grandpa" will ever be a sacred treasure. May the grace of God comfort the bereaved wife in this her great affliction, and may the sorrowing children be encouraged to be more faithful, remembering that there are greater endearments in "Our Father's house." JOS. B. SEARS, Trezevant, Tenn., March 8, 1881.
YANCEY MOORE was the oldest child of Robert and Sally Moore of Person Co., N. C. A letter found in the Webb Family Papers, 1765-1960, Historical Southern Collection (No. 1900), University of North Carolina Library , Chapel Hill, N. C. , from Susan Ann Webb (1831-1905), "Oaks," Granville Co., N. C. to her brother, William Robert (Sawney) Webb (1842-1926), Bell Buckle, Tennessee, dated November 1891, reads, in part, "General Stephen Moore's oldest son was named Robert. Robert married Sally Bailey of Halifax Co., Va. They had a family of children as I remember, Grizzy, Annie Marie, Betsey, Harriett, Albert, Yancey, William and Gilbert. Yancey married Miss Mary Wade of Halifax Co., Va., a sister of aunt Susan Stanford, uncle Saurin's (Saurin Stanford) wife. They moved to Tenn. when I was small. Cousin Yancey went out with my father (Alexander Smith Webb) to Tennessee when Line (her sister, Mary Caroline Webb, born in 1833) was a baby. Yancey afterward moved to Tenn. My father wanted to go too but mother (Cornelia Stanford Webb) objected and he would not go without her consent. Cousin Yancey lived to be old and died having the respect and love of all who knew him. I have several times heard mother say Pa loved Yancey Moore better than any of the Moore kin. "
Yancey's sister, mentioned above, Sarah Harriett Moore (Oct. 25, 1816-Mar. 19, 1864) married her first cousin, Richard Henry Moore (died 1850), a son of Dr. Portius Moore, in 1838. In their family Bible, her parents' dates are given as:
Robert Moore, born November 5, 1762; died November 27, 1827. Sarah Moore, born May 4, 1779; died July 6, 1838. (As mentioned in a letter from Rufus Morrow, Burlington, N. C. to W. E. Moore, Sr., Statesville, N. C., dated August 16, 1962. Morrow had seen the old fragmented Bible records, then owned by Mrs. Mattie Thompson Moore, widow of Charles F. Moore, Sr., a lineal descendant of R. H. and S. H. Moore. Moore family file, Genealogical Library, McKenzie, TN)
The public records of Person Co., N. C. reveal that Robert Moore's bond to marry Sarah Bailey (Baylie) is dated February 11, 1797. Moore family records, succinctly noted, that of Yancey Moore's siblings, Albert moved to Miss.; Gilbert was married and head of a family; the fate of William Moore is not certainly known (and he is sometimes called Wesley Moore); Elizabeth, i.e. Betsey (1808-1835) married George W. Ferrill; Ann (1810-1858) married William R. Reade; Grizzy (died 1858) married Joel Sweeney; Sarah Harriett (1816-1864) first married her cousin, Richard Henry Moore and afterward Andrew Thompson. (IBID.)
Robert Moore was one of the twins born to General Stephen and Grizey Moore, according to the old Stanford family Bible (see page 80), on Nov. 12 1769. There is a discrepancy in Robert's birth as to the day and year of his birth as given in the R. H. and S. H. Moore family Bible, i.e. Nov. 5,
(Page 78)
1762. One may choose the date one prefers, but inferentially the Stanford record was taken from the original Moore family record, hence for the present writer, he accepts Robert Moore's birth date as November 12, 1769.
Through the years people have blandly but uncritically looked at the Stanford Bible record and as only John Moore's, a twin of Robert, name and date of birth are given, have assumed that Robert Moore's name was John Robert, and in doing so totally ignored the Stanford record which states that John Moore, born 1769, died September 7, 1770. The person transcribing the Moore birth dates from the older family register inadvertently deleted Robert's name from the list, perhaps having written in haste. The family tradition has had it for generations that General Moore had only one marriage and all legitimate children were born of his marriage to Grizey Phillips. General Moore's parents, John and Frances Moore of New York City, had three sets of twins, as noted in the family account given on page 104 of William J. Webb's 1940 publication, OUR WEBB KIN OF DIXIE.
It may also be noted here that some of her descendants have seen fit to call Grizey Moore Griselda, perhaps thinking the former name not sufficiently dignified. There is no evidence known to the present writer that her name was anything other than Grizey, a rather popular girl's name of her time.
Of General Stephen Moore, David Moore Hall's brief sketch, in his book, SIX CENTURIES OF THE MOORES OF FAWLEY, BERKSHIRE, ENGLAND AND THEIR DESCENDANTS AMID THE TITLED AND UNTITLED ARISTOCRACY OF GREAT BRITAIN AND AMERICA (Richmond, Va., 1904), page 38, is basically correct and for that reason is given here:
GEN. STEPHEN MOORE, of White Hall, Moore's-Folly-on-the-Hudson, N. Y. and Mount Tirzah, N. C., (1734-99). Lieut. DeLancey's Brigade British Army, (war 1756); afterwards Paymaster to the army in Canada. m. Griselda Philips, of Boston, Mass. Issue, 1—John m. Sarah Bailey. 2—Philips. 3—Marcus. d. inf. 4—Cadmus. d. inf. 5—Ann, d. unm. 6—Samuel. 7—Portius. 8—Sidney m. Mary Reade. 9—Frances. 10—Mary m. to Hon. Richard Stanford, U. S. Senator from North Carolina. During the Revolutionary War he moved from Moore's-Folly-on-the-Hudson to Mount Tirzah, N. C., a beautiful spot in (now) Person Co., "where the ax had never been laid to tree." In 1779 he took command of a regiment of North Carolina State troops which participated in the first battle of Camden, in which battle the Americans under Gen. Horatio Gates were defeated by the British under Lord Cornwallis, and he was taken prisoner and carried to Charleston, S. C. Upon his release he retired to Mount Tirzah; after the peace he sold his estate on the Hudson to the U. S. Government. It is now the site of the U. S. Military Academy, (founded 1802). Moore, Henshaw, supra. Mrs. Sophronia Moore Horner, Genealogist.
In the DICTIONARY OF NORTH CAROLINA BIOGRAPHY, volume 4, edited by William S. Powell (Chapel Hill, 1991). pages 308-309, General Moore's career is well delineated although its writer fell into the "John Robert Moore, born 1769" trap; also repeated a flawed account that the general died in one Richard Bennehan's residence at Stagville, N. C. There is nothing known to the present writer to substantiate this story and indeed is belied by the account in the Stanford family Bible record, in which he is plainly stated to have died December 29, 1799 "at Mount Tirzah" which was his plantation home in Person Co., N. C. More grievous, perhaps, is the claim that he served in the U. S. Congress in 1793. There is no contemporary record of any such service, official records indicating that other men from his Congressional district so served. (See, John H. Wheeler, HISTORICAL SKETCHES OF NORTH CAROLINA, Philadelphia, 1851, pages 109, 110. Furthermore, he is not "sketched" in the government publication, BIOGRAPHICAL DIRECTORY OF THE AMERICAN CONGRESS, 1774-1996. )
(Page 79)
General Moore's career is interesting and worthy enough without these superadding fictions. Hall's sketch broadly outlines his life (information therein based on the research done by Sophronia Moore Horner, Oxford, N. C.). Additionally, it may be noted that he was born in New York City, October 30, 1734 (New Style of dating); that he married at Quebec on Christmas Day, 1768, in which British province he had served as a deputy paymaster general of British provincial troops. He thereafter had fair success as a merchant with his official residence having been at Moore's Folly on the Hudson River in New York, an estate conveyed to him by his father, John Moore, until about the time of the outbreak of the Revolutionary War when he and eventually several other relatives made a major move to North Carolina, settling first in Granville County and then in 1777 establishing a family seat, Mount Tirzah, in Caswell County (which place fell in Person County when it was created from Caswell in 1791), whereon he built an attractive two-story frame dwelling in the next year, which historic building is still standing in Person County.
General Moore espoused the American colonists' struggle for independence from Great Britain. He raised and equipped a regiment of N. C. troops, gaining the rank of lieutenant-colonel in the Hillsboro District. He was captured with numerous others of his command, at the battle of Camden in South Carolina, August 16, 1780; he and they were paroled months later in Charleston, S. C. but on the caprice of a British officer were temporarily imprisoned on the POW ship, "Forbay" in that city's harbor on May 17, 1781 but were released about a month afterwards. (STATE RECORDS OF NORTH CAROLINA, edited by Walter Clark, Goldsboro, volume 17 (page 1044); volume 15 (pages 391-396) He afterwards served in several governmental capacities, including Deputy Quartermaster General of North Carolina (IBID., volume 20, pages 214, 394; volume 22, page 562), from which position came his title as "General" Stephen Moore.
General Moore wished to sell Moore's Folly (some 1617 acres) as early as 1783, offering to sell it to the new federal government, it being a strategically located real estate. This sale was made to the War Department of the United States July 12, 1790. The old plantation became the site of West Point Military Academy when it was established in 1802.
On September 27, 1797, General Moore executed his last will and testament; in it he mentioned his wife, who with their sons, Robert and Phillips, were designated and duly served as executors of this will that was proven in March 1800; also children Frances Dickens, Ann Moore, Mary Moore, Portius Moore, Samuel Moore and Sidney Moore; his own siblings, Charles and Ann Moore. At the time he wrote his will, a son, Cadmus, had died only twenty-two days previously. Among his possessions were a nearly 3000 acre estate on Flat River (Mount Tirzah) in St. James District, Person County, a mill and mercantile store, thirteen slaves and numerous livestock. His remains, those of his widow and others of their kindred were buried at Mount Tirzah in their family graveyard.
(Page 80)
FAMILY DATA SHEET SEGMENTS OF A STANFORD FAMILY BIBLE, THE DATA OSTENSIBLY TAKEN FROM THE PERSONAL FAMILY REGISTER OF STEPHEN AND GRIZEY MOORE. AS REVEALED BY THE TEXT OF THE DATA, THESE ENTRIES WERE ALL MADE AT ONE TIME IN THE SAME HANDWRITING, WHOSE IS UNKNOWN. IT WAS AFTER THE DEATH OF HON. RICHARD STANFORD, THE MOORES' SON-IN-LAW, WHO DIED IN 1816, AS HIS BIRTH AND DEATH ENTRIES ARE IN THE SAME HANDWRITING AS THE MOORE ENTRIES. WHOEVER TRANSCRIBED THESE DATA FAILED TO ENTER THE NAME OF THE SON, JOHN'S TWIN WHOSE NAME WAS ROBERT MOORE; EVEN JOHN'S BIRTHPLACE IS NOT GIVEN AS WAS FURNISHED FOR ALL THE OTHER CHILDREN. HASTE MAY EXPLAIN THE DELETION. (FROM THE MOORE FAMILY FILE, GENEALOGICAL LIBRARY, McKENZIE, TENNESSEE)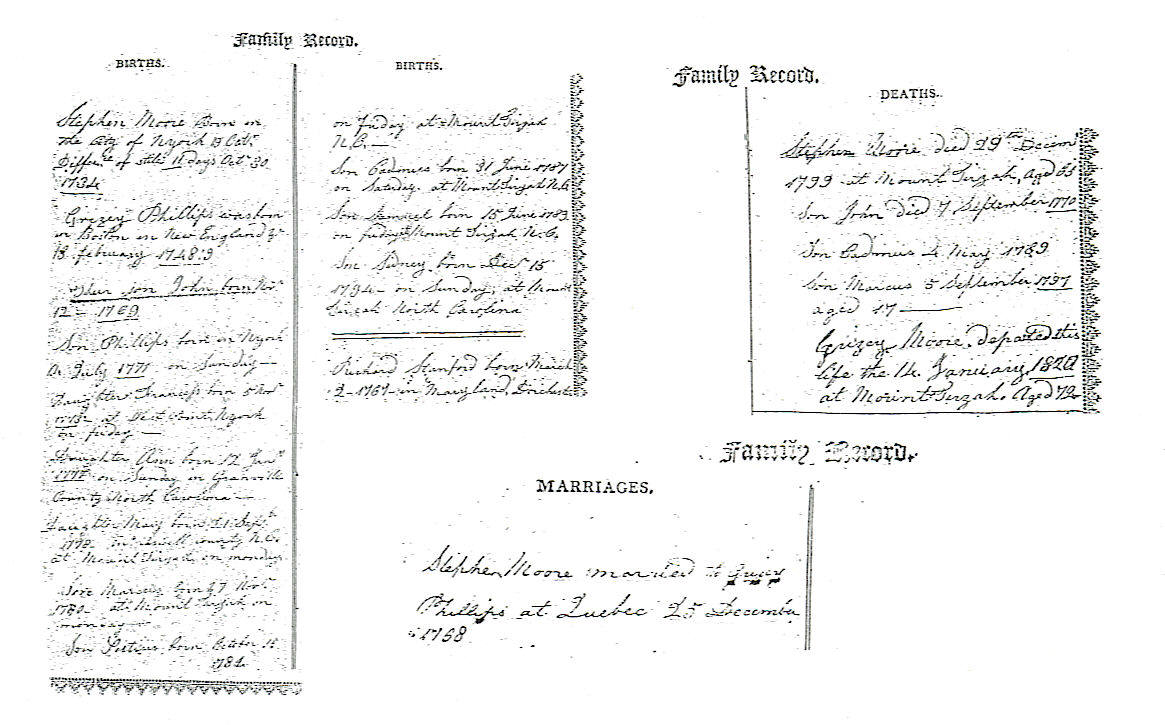 PICTURE OF BIBLE PAGES HERE
BIRTHS
STEPHEN MOORE BORN IN THE CITY OF NEW YORK 19 OCTR. DIFFERENCE OF STILE (STYLE) 11 DAYS OCTR. 30, 1734
GRIZEY PHILLIPS WAS BORN IN BOSTON IN NEW ENGLAND YE 13 FEBRUARY 1748:49
THEIR SON JOHN BORN NOVR. 12, 1769
SON PHILLIPS BORN IN NEW YORK 12 JULY 1771 ON SUNDAY
DAUGHTER FRANCES BORN 5 NOVR. 1773
DAUGHTER ANN BORN 12 JANY. 1777 ON SUNDAY IN GRANVILLE COUNTY, NORTH CAROLINA
DAUGHTER MARY BORN 21 SEPTR. 1778 IN CASWELL COUNTY, N. C. AT MOUNT TIRZAH ON MONDAY
SON MARCUS BORN 27 NOVR. 1780 AT MOUNT TIRZAH ON MONDAY
SON PORTIUS BORN OCTOBER 15 1784 ON FRIDAY AT MOUNT TIRZAH N. C.
SON CADMUS BORN 31 JUNE 1787 ON SATURDAY AT MOUNT TIRZAH, N. C.
SON SAMUEL BORN 15 JUNE 1789 ON FRIDAY AT MOUNT TIRZAH, N. C.
SON SIDNEY BORN DECR. 15, 1794 ON SUNDAY AT MOUNT TIRZAH, NORTH CAROLINA
MARRIAGES
STEPHEN MOORE MARRIED TO GRIZEY PHILLIPS AT QUEBEC 25 DECEMBER 1768
DEATHS
STEPHEN MOORE died 29th DECEM. 1799 AT MOUNT TIRZAH, AGED 65
SON JOHN DIED 7 SEPTEMBER 1770
SON CADMUS(DIED)4 MAY 1789
SON MARCUS (DIED) 5 SEPTEMBER 1797 AGED 17
GRIZEY MOORE DEPARTED THIS LIFE THE 14 JANUARY 1820 AT MOUNT TIRZAH AGED 72