Death Notices from the Christian Advocate,
Nashville, Tennessee 1880-1882 #2
Compiled by Jonathan Kennon Thompson Smith
Copyright, Jonathan K. T. Smith, 2005
transcribed by Laurel Baty
NASHVILLE CHRISTIAN ADVOCATE
(Page 72)
December 18, 1880, page 6:
REV. GEORGE W. BRUSH.
MEMORIAL ADDRESS.
Rev. George Washington Brush was born in Rockbridge county, Va., on the 28th of October, 1805. His father, John Brush, was a native of that county; his mother was born in Ireland, but was taken to Virginia when seven years old. John and Nancy Brush removed to Shelby county, Ky. in 1806; yet their first-born never ceased to appreciate and claim his birthright as a Virginian. The parents were devout Presbyterians; the son was consecrated to God in infancy, and in early life learned much of the Sacred Scriptures and Church catechisms. Such faithful pastors as Cameron and Crowe gave valuable help to the pious parents in the education of their sprightly son. To Rev. Mr. Crowe the lad was deeply indebted for important assistance in his classical and scientific studies. He never ceased to venerate those excellent men. His ardent love for their Church was life long
He was called to the work of the Christian ministry. In October, 1828, with the blessing of his parents, he entered upon the career of an itinerant Methodist preacher. The Kentucky Conference received him on trial, and the presiding Bishop appointed him to the Breckinridge Circuit, as the colleague of Rev. Abram Baker. In 1829 he was returned to the same field of labor with Rev. Absalom Wooliscroft. On this, his first circuit, there was a net increase of more than 200 members in a single year. In 1861 I found still living in the counties of Breckinridge, Meade, and Hancock, many of the converts of that year, occupying the most important places in the Churches. In 1830 he was stationed in Bowling Green. On the 23d of January, 1831, he was happily married to Miss Penelope Finley, who shared the lot of her itinerant husband in humble, pious contentment for nearly thirty eight years. His record of her death, on the 15th of December, 1868, is in these words: "A pretty woman, a faithful wife, a superior mother, a sincere Christian, she toiled hard, and to the last, to fill her place in this life. Her memory is precious; we feel that she is safe." Sister Brush was the mother of seven children, of whom six are-still on-earth. The family, though scattered now, are living in love, and trying to walk in the footsteps of their pious parents. An only son lives in Memphis, Tenn.; two daughters are in Missouri; one is in Owensboro, Ky.; one is the wife of an itinerant preacher, now at Sonora, Ky.
In 1831 he was sent to the Germantown Circuit, and afterward removed to the Maysville Station; 1832, to Cynthiana Station; 1833-4, Shelbyville Station; 1835, Frankfort; 1836, Maysville; 1837-8, Brookstreet Church, Louisville; 1839-40, Lexington. In 1841 he was agent for the Preachers' Aid Society. In 1842-3 he was sent to the Fourth street Church, Louisville; 1844, the Middletown Circuit; 1845, Lexington; 1846, Millersburg Circuit; 1847, Paris and Millersburg; 1848-9, Frankfort; 1850-1, Shelbyville; 1852, Frankfort; 1853, Taylorsville Circuit; 1854, Simpsonville Circuit; 1855, agent for the Tract Society; 1856, La Grange Circuit; 1857, Simpsonville Circuit; 1858-9, Middletown Circuit; 1860, Jefferson Academy and supply for La Grange Circuit; 1861-2. Eighth-street Church, Louisville; 1863-4, Walnut street Church, Louisville; 1865, Shelby street Church, Louisville: 1866-7, Jeffersontown Circuit. On the 17th of January, 1871, he was again happily married to Mrs. Mary Ann Mix, with whom he lived in uninterrupted satisfaction for nearly nine years. In 1868-69-70, he was presiding elder of the Louisville District; 1871-2, Owensboro Station; 1873-4, Henderson Station; 1875-6, Lebanon; 1877-8, Jeffersonville; 1879, agent for the Widows' and Orphans' Home; 1880, he asked for and obtained a superannuated relation. Up to January, 1880, Brother Brush was exceedingly active and healthy for one of his age. At about that time, by trudging through cold, and sleet, and snow, in the service of the Widows' and Orphans' Home, he brought on a serious attack of pneumonia and heart-disease, which for several days threatened to be fatal. To the astonishment of all he was able to rise again, and though trembling and in feebleness, go forth about the duties of his agency until the end of the Conference year. On returning from the Conference he suffered another violent attack, and was for several days unable to lie down. Yet even after this his astonishing vitality refused to surrender to disease and death. The friends who went to see him die met him in the yard to give them as cheerful a welcome as if he enjoyed the strength and health of other days. So passed his happy hours. About noon of Saturday, November 13, he rose up from his chair to take exercise in walking. His dear wife little thought that his first step would be from earth to paradise, but so it was. Without a shudder or a groan his body lay prostrate on the floor, while his freed spirit ascended to its long sought home.
September 16, 1882, page 12:
My brother-in-law and dear friend, CALEB MORRIS BELL, son of Rev. Caleb N. and Mary Bell, of precious memory, was born near Bell's Chapel, in Todd county, Ky., July 25, 1838, and died at his home, near the place of his birth, May 6, 1882. Brother Bell, blessed with religious parents, was ''brought up in the nurture and admonition of the Lord," and from his earliest recollection was taught to "remember his Creator." Such a father and mother seldom fail to impress the child with its obligations to God and his service. Our brother had fair educational opportunities. He was married to Hallie N. Petrie, his now bereaved wife, by Rev. J. S. Wools, Sept. 9, 1860. Brother Bell was a citizen of probity, honor, and integrity. He took a lively interest in the welfare of his country, and was ever ready to advocate a policy that he thought would bring good to the people, and, peace to the State and nation. With a clever start in life, his fine judgment added to his possessions, till he had enough and to spare. He succeeded well in life, and has had a fine influence upon society. Above all his good qualities, he was a faithful child of God. He professed religion at Bell's Chapel in the summer of 1851, and joined the Methodist Church, having been baptized in his infancy. "He was a good man, full of faith and the Holy Ghost, and feared God above many," and has been released from suffering, and gone up to join father and mother and loved friends in a world where accidents and sufferings never enter.
J. C. PETRIE
Elkton, Ky., May 11, 1882.
(Page 73)
September 3, 1881, page 12:
Rev. JOSEPH KIRTON TUCKER, A.M., of Illinois Conference, was born in Cabarrus county, N. C., Oct. 6, 1837, and died in Nashville, Ill., July 26, 1881. He was converted and joined the M. E. Church, South, when he was quite young. He was licensed to preach about 1863; about 1865 he joined the South Carolina Conference, and traveled a short time. He was discontinued at his own request. He taught school for a few years, mostly in Lexington county, S. C. He then became a pupil in Trinity College, North Carolina; Dr. Craven, President. He graduated with much credit in 1872. Shortly after his graduation he was happily married to Mrs. Lou Lowry, of Ansonville, N. C. He spent a few years in charge of a school at that place. He gave great satisfaction as an educator, and greatly improved the school. In 1871 he and his family— wife and step-son—came to Illinois, and settled in Jonesboro, thirty miles north of Cairo. Here he taught and preached as a local preacher. He and his excellent wife labored here for several years to gather the scattered members of the M. E. Church, South, living in and around Jonesboro. A small society was organized, which, though not able to support a pastor, claim their connection with the Church, and invite the presiding elder of the district to preach when he can, and give them the sacrament. In September, 1879, at the session of the Illinois Conference in Kinmundy, Brother Tucker was admitted on trial in the regular itinerant ranks, without any mental reservation on his part. This became to him a new departure in the ministerial life; he arose to the highest plane of ministerial consecration. He refused a salary of one thousand dollars offered to him to teach, not knowing what he was to get in its place. Bishop Wightman appointed him to Nashville Station. He entered upon his work early, was fully devoted to it, and happy in it. All the interests of the Church were advanced during the first year, and he was returned the second year. He continued to gain on the affections and confidence of the entire community. Sunday, 24th of July, he went to class-meeting at 9 A. M., preached at 11 A. M., was with his class in Sunday-school at 3 P. M., and preached again at night. Monday morning, 25th, was on the streets several times, but complained of being unwell. He soon had symptoms of a severe attack of cholera morbus, accompanied with chill and cramp. Congestion of the bowels and stomach set in. His whole system gave way, and the strong man withered as the grass. At 3 A. M., July 26, Brother Tucker entered into rest. Intellectually, and as a scholar, Brother Tucker was above an average. He read extensively and studied closely. As an educator he had but few equals. His social qualities were of a high order. His conversation was both instructive and entertaining, "always with grace seasoned with salt." His spirit and temper were so kind, his example so consistent, that no one could associate with him much without being impressed for good. As a preacher he was instructive and convincing. His arguments were conclusive, his illustrations simple and clear, and his general manner earnest, but not boisterous. He was a fine Bible-student, well-posted in all the doctrines of the Church. As a pastor I never knew his superior—indefatigable, kind, and patient. By nature he was timid, very much inclined to prefer others to himself. He was rather disposed to keep himself in the background. He was most popular with those who knew him best. His congregations were much larger recently, the closing up of his second year, than at the beginning of his ministry among them. The people were more anxious for his return the third year than they were the second. He died just when, it seemed to us, he was entering upon a wide field of protracted usefulness. But our loss is his eternal gain. May a kind Providence graciously support the bereaved widow, guide the son—a noble and promising young man, now a student of Vanderbilt—into the paths of virtue, truth, and religion. May the prayers of the departed be yet answered on the living.
His soul to Him who gave it rose,
God led it to its long repose,
Its glorious rest.
And, though the warrior's sun has set,
Its light shall linger round us yet,
Bright, radiant, blessed.
COLIN MURCHISON.
Kinmundy, Ill., Aug. 3, 1881.
October 1, 1881, page 4:
REV. JESSE BOARD.
Dr. FITZGERALD:—Our beloved brother, Jesse Board, is dead. He fell at his post; died in glorious triumph; called his wife and children, and all the neighbors present, each by name, and exhorted them to be faithful, and meet him in heaven. He was a faithful, earnest, successful Methodist preacher. Few men of his opportunities have succeeded so well. Hundreds have been converted and added to the Church through his ministry. He made friends everywhere, and was popular on all his charges, and his return, after the first year, was nearly always asked for— if there was ever an exception, I never heard of it. He was burdened with a numerous family before he entered the Conference, and the charges he served gave him a meager support. Yet, he managed to live and labor for the Lord, and to pay all his debts. He was a model of honesty and integrity; rather than leave a charge with debts unpaid, he would find secular work for himself and children, at whatever price they could get, until the money was earned to meet his promises. All honor to such a man—however, it may shame a people able, but not willing, to support a faithful, consecrated pastor, watching for souls.
Brother Board had few educational advantages, but he had a quick perception, good memory, and strong, native intellect, and these, with his warm heart and great zeal, enabled him to preach well, and to steadily improve. He was converted when a boy, under the ministry of Revs. J. M. Rhodes and Isaac W. Emerson; but soon after lost his pious mother, and his father being irreligious, he wandered away and became wicked, but in 1863 was reclaimed, and from that time onward "he was a burning and a shining light" as far as his opportunities allowed. For some time past he had suffered with distressing headaches, which gradually grew worse, and some other afflictions diminished his strength. The intense heat and his continuous labor in August last prostrated him, and he took his bed on Sunday night, Aug. 13, 1881, and was never able to leave his room again. He died of apoplexy on the 21st of August, at 71/2 o'clock P. M., surrounded by his family and a host of friends. He was the son of Robert and Lydia Board, and was born in Breckinridge county, Ky., Nov. 21, 1837, and died in the parsonage, which he had built, instrumentally, at Richardsville, in Warren county, Ky., being 44 years of age. A fond wife, who was Eliza B. McGuffin, and numerous loving children lament their loss on earth, but hope to meet him in heaven. He said to his wife, "I'll be waiting at the gate for you." May we all meet him in the "sunbright clime." GEORGE R. BROWDER.
September 17, 1881, page 15:
MRS. MARY ANN NICHOLS.
June the 13th, when the sun was low in the west, we laid her gently away to rest, and then, bedewing the sacred spot with tears of affection, hushed to silence the grief of our hearts, because it is written, "Blessed are the dead which die in the Lord."
Mary Ann, daughter of Lawrence and Margaret Banks, was born in Somerville, Ala., Nov. 3, 1844, and died at Bee Spring, Giles county, Tenn., June 12, 1881. At the age of 12 years she professed religion and joined the M. E. Church, South, in which she lived an exemplary and useful member until she joined the "general assembly and Church of the first-born." On November 22, 1868, she was united in marriage with Rev. John H. Nichols, of the Tennessee Conference. Her death was the result of a painful accident which happened eight years ago. While returning with her husband from one of his appointments, the horse he was driving became frightened, and kicked, striking her over the right ear, producing compression of the brain, which terminated in occasional apoplectic paroxysms. During this long period of suffering she exhibited a degree of patience and resignation that was truly wonderful and which made her already lovable character so potential for good.
Her early training was of a superior kind, and her application in after-life to the principles and duties inculcated, was, without exception, uniform and assiduous. Her set times for reading the Scriptures and devotional exercises were observed with a regularity that but few have observed. Like Timothy, she knew the Holy Scriptures from her youth, and during her married life-time read the entire Bible through 25 times, and the New Testament 75 times in French. As might be expected she trained her children properly, and taught them, like herself, to study the Bible; hence, before they were five years old they had read it through, and one gratifying result of her duty and devotion in this particular, she lived to see all her children —the youngest just entering upon his sixth year—converted and in the Church.
Mrs. Nichols, in all the relations of life, bore herself with becoming modesty, and, though quiet and unassuming, she was faithful and zealous in her domestic and religious duties. She was indeed an help meet to her husband. The day before her death he was sent for to see a penitent lady, but being absent, his faithful wife went in his stead, gave spiritual counsel, and comforted the mourner. Only two hours before her death she occupied her accustomed seat in Bee Spring Church, and assisted in singing. The last song sung during the service was, "I would not live alway." At the close of the last verse she said, with earnestness, "No! No! I would not!" This was the last song she sang on earth. She returned to the parsonage and took dinner, then laid down to rest for evening Sunday-school. At the time for Sunday-school she was asleep, and when aroused by her oldest son, she said, "Go to Sunday-school and I will rest for evening preaching." These were her last words. In fifteen minutes she was in glory. How appropriately it may be said of her, "She hath done what she could." Three weeks before her father died in the faith, and she said, "I will be the first to see pa." The week before her death she told her husband where to find her burial clothes, and who she wanted to raise her children, though she was in her usual health. She has left the savor of a good name, the record of a life devoted to the Church, and the inheritance of a character blameless in all things. She has joined her father, mother, and her first-born son on the other shore. We shall see her again.
JOSEPH L. SHERRELL
GEO. W. McGUIRE
MARTHA L. HAWK
Referred from Sept. 2, 1881, this book, page 42:
Lavinia, TN Methodist Cemetery: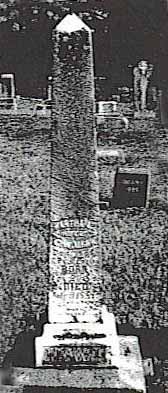 MARTHA L.
wife of G. W. HAWK
dau. of R. B. and M. E.
PORTER
Born Nov. 26, 1833
Died July 11, 1881