Hezekiah Hamblen (1775-1855)
Hamblen County is named for Hezekiah Hamblen. Although he never lived within the boundaries of Hamblen County, he was a landowner, surveyor, lawyer, magistrate, and member of circuit and county courts in nearby Hawkins County.
Legend has it that, at the time when Hamblen County was being formed in 1870, William Green of Hawkins County was State Senator and, in order to secure his recommendation for the establishment of the county, was given the privilege of naming the county. He chose to honor his grandfather, Hezekiah Hamblen, in the naming.
TN Historical Marker 1B19
Located on US Hwy 11-W, Hawkins County, 4 miles southwest of Rogersville, TN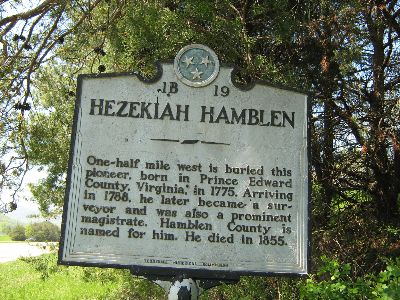 Transcription: One-half mile west is buried this pioneer, born in Prince Edward County, Virginia in 1775. Arriving in 1788, he later became a surveyor and was also a prominent magistrate. Hamblen County is named for him. He died in 1855.
---
WILL OF HEZEKIAH HAMBLEN
Page 259
Dated: January 22, 1854
Proven: Feb. Term, 1855
In the Name of God, Amen. I, Hezekiah Hamblen of the County of Hawkins, State of Tennessee, being in good health and in sound and perfect mind and memory, blessed be God, be-ing in the seventy-ninth year of my age and calling to mind the mortality of this life do this 22nd day of January in the year of our Lord, 1854 make this my last Will & Testament in manner following, Viz: Whereas I have heretofore given to most of my children portions of my property as circumstances suggested,
I gave to my son William a whole portion,
I gave to my son Henry Hamblen part of his portion, and now I give to Henry all that tract of land I purchased of Thomas Hamblen lying on the waters of Stock Creek which Henry now lives on, which makes up his whole portion.
I gave to my daughter Elizabeth Smith her whole portion.
I gave to my daughter Mary Smith negro Sam & other things, and I give to her daughter and son Caroline and Moses a negro girl Beckey which makes up the full portion.
I gave to my daughter Jane Lauderback her full portion.
I gave to my son Abner part of his portion and now I give him Molly and Frank and their increase, to him and his heirs forever.
I gave to my son John part of his portion and now I give John negro Jesse.
I have given daughter Nancy part of her portion Caty and Dick, and now I give to Nancy negro Harriet and her increase, to the said Nancy and her heirs as the balance of her portion.
I have given no portion to my daughter Priscilla Green, and now I give her negro Eliza and her two children Stokley and Ned. I also give and bequeath to my my grandson William Greene a negro boy named Bob. Also to my grand daughter Susannah Greene a negro boy named Peter, which goes for Priscilla's portion.
I have given to my daughter Susannah Ely her full portion.
I hereby lend to my wife Nancy half of my tract of land upon Caney Creek and the following named negroes: Willis, Marie, Marcia, Ellen, Mary, Florida and Sandy, two of my horses - her choice, five cattle - her choice, during the time she lives single or during her natural life.
It is my will that my mulatto man Harry be free and emancipated at my death.
Now, my son William and my daughter Mary are dead. I do hereby bequeath the balance of my estate, real and personal-together with the part lent to my wife, after her marriage or death to my sons and daughters , Henry, Elizabeth Smith, Jane Lauderback, Nancy Hamblen Priscilla Greene, John, Abner Hamblen and Susannah Ely to be divided equally, share and share alike to them and their heirs forever.
I do hereby appoint my three sons, Henry, John & Abner Executors of this my last Will and Testament, or so many of them as shall give security and qualify, In witness whereof I the said Hezekiah Hamblen have to this my last Will and Testament set my hand and seal , the day & year above written. I leave this among my valuable papers.
Hezekiah Hamblen (seal)
Endorsed: Handwriting to this will was proven by the oath of D. Alexander, Jno D. McFarland, Orville Rice, Alexr Long & John Stipe.
---