The Royal Highlanders
A Fraternal Insurance Order
†
Aurora, Nebraska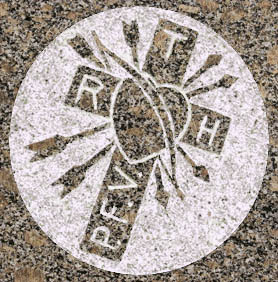 1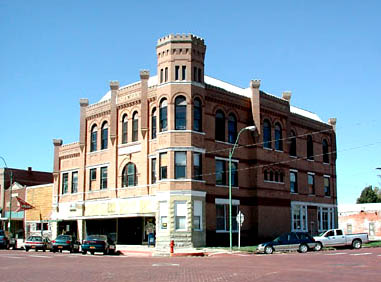 3
"The Royal Highlanders was a fraternal insurance organization organized in 1896 in Aurora [Hamilton County, Nebraska]. Joseph Johnson of Aurora was selected to construct the three-story brick headquarters building. The Royal Highlanders remained in Aurora until the organization merged with the Lincoln Mutual Life Insurance Company in 1923. The building is unique in Nebraska for its romantic design modeled after the Balmoral Castle in Scotland." 2
The Royal Highlanders Building is on the National Register of Historic Places. HM01-002
"The building is a large rectangular structure of brick and stone masonry, measuring 52' x 90' horizontally and three stories in height. The building features highly-articulated facades of three bays each, with architectural forms on the four-story corner tower, projecting tourelles, and a crenellated cornice.
"It was designed after Balmoral in Scotland, as this is from where the Royal Highlanders derived. Its cornerstone was laid in July of 1904 with construction being completed in the summer or early fall of 1905 with grand opening exercises taking place on November 16, 1905.
"The building does exhibit some interesting architectural details. The tower base is of rusticated stone and the building is divided into five bays including the tower in front and three bays on the side, with the middle bay projecting. The crenellated tower rises above the structure as do the seven tourelles which rise above the parapet which are pseudo-crenellated. The cornices are ornately carved. There are pilasters which support ornate capitals. Upon them rest the Royal Highlanders plaque with motto initials T.R.H. (The Royal Highlanders) and P.F.V. (Prudence, Fidelity and Valor)." 3
"Royal Highlanders, Lincoln Neb.-- Converted to a mutual insurance company in 1937; name changed to Lincoln Mutual Life Insurance Company in 1946." 4

Sources:
1. Graphic created in Photoshop based on a photograph.
2. Nebraska National Register of Historic Places website.
3. From an eBay auction description, 8 Oct 2004, Item number: 4329504405, The Royal Highlanders Building in Aurora, Nebraska, priced at $125,000.00.
4. National Fraternal Congress of America

Note:
† We have see The Royal Highlanders referenced to as a Fraternal Insurance Order, as an Association, and as a Society.